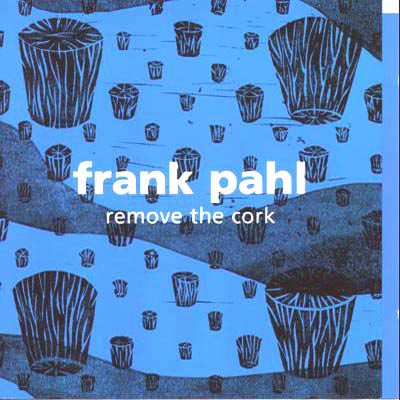 frank pahl – remove the cork
release date : 1997
label : demosaurus
frank pahl is a fantastic musician, and "remove the cork" proves it once again. he's a one man band, also know as a member of only a mother, playing a raw music on acoustic instruments (we can hear ukuleles, prepared piano, clarinets, euphonium). beautiful melodies seem to come out from nowhere… following the excellent "the romantic side of schizophrenia" (tec tones) and his contributions to the doctor nerve projects, and after his contribution to elliot sharp's state of the union, remove the cork brings you to the unknown world of inventive folklore. a masterpiece produced by david fenech for his demosaurus micro label.
with brian poole (renaldo and the loaf),
dennis palmer (shaking ray levi),
nick didkovsky (dr. nerve , fred frith guitar quartet)
doug gourlay, tim holmes and eugene chadbourne.
interview with Frank Pahl
February 1998
Questions sent by mail by David Fenech


---



On your last record, you play more than 40 different instruments
(from prepared piano to toys, from charango to bike horns) ... How did
you come to be a one-man-band ? Are there still instruments that you
never played ?

The impetus for my one man band was fear. In 1988 I had some west coast
solo gigs lined up and I was concerned about being visually static, so
I started practicing with the kick snare and home made hi-hat
combination which fit nicely into my accordion case. After a couple of
local Detroit gigs I discovered that audiences forgave imprecise
rhythms in the one man band mode more easily than they would a sloppy
drummer in a group. This phenomena worked in my favor.

You also build automatons (like the treadle-driven marimba). Do you
consider them as "sculptures that make sound" or as "devices to support
your music" ? Can you describe these machines ?

The automatons are the result of returning to school to pursue an MFA
in Art and Design. As an art major lacking technical skills in
traditional media I felt I had to create objects since everyone else in
my program was. Since my background was considerably more aural than
visual I made objects that both created sound and supported my music.
Taking my cue from Pierre Bastien I started buying secondhand Erector
sets (he prefers Meccano), Tinker Toys, rotisserie motors, etc. If they
are at all autodestructive it is not because I emulate Jean Tinquely;
it's because I'm a mediocre engineer.

You play "home-made banjo"... it seems that you also built some
instruments. which ones ? Do you use electronics ?

My home made banjo I bought for a dollar at a church sale. It's a
lovely fretless plywood mess. I tend to modify instruments more than
build my own. Give me a couple of door stops, plastic knives and some
toys to dissect and I'm prepared to prepare. As far as electronics go
I'm a bit shy. I just started building microcontrollers to trigger my
automatons though I don't like to rely on electronics to originate the
sound unless the electronics are very low tech (variometers, sirens,
cheap sampling boxes, etc.).

In your one-man-band, you play all these instruments at the same
time ..  but in the studio you seem to prefer the accumulation of the
same instrument (cf. "ODE TO ..." ) Do you work at home in your own
studio ? How does it influence the creation process ?

I record almost exclusively in my home studio. For years I used an
Otari 8-track reel-to-reel. Recently I switched to an 8-track ADAT. My
approach to composition is a direct result of owning multi-track
equipment. I tend to come up with an initial track and overdub as
quickly as possible to keep it fresh. Briefly Doug Gourlay and I ran
the studio as a business recording bands in search of the perfect pop
song. Their meticulous anal tinkering convinced me early on that there
had to be a better way. I suppose my approach is somewhat of a reaction
to wannabe pop stars. Eugene Chadbourne was also recording at my studio
whenever he was in town and his approach was record everything as quick
as possible.

Did the fact that you play one-man band change the way that you play
with Only A Mother ?

My experience with Only a Mother began at approximately the same time
as I began the one man band gigs (87 or 88?). Bobbi, the bass player
from Only a Mother bought me a Spike Jones washboard-style one man band
that I briefly played with Only a Mother. The washboard one man band
appears on the two Ode to Rack numbers from The Romantic Warped, but I
consider the two experiences separate. The obsessive multi-imstrumental
approach was probably the result of composing in the studio and working
with Marko Novachcoff, who's quite a collector/player.

How would you analyze the way you compose ? What is the process that
creates these incredible melodies ? And how would you describe your
music to people who don't know you ?

I often try to find chord sequences that have one or two notes in
common.  I also build chords on top of chords. Any tunes that begin
with the title, "The Romantic Side of ..." were written on the piano
with the left hand playing different chords than the right hand. This
creates an ambiguous impressionistic tonal base. Then I either
improvise a melody or take the notes that are most common in the
progression and build a melody from those notes. The result tends to be
simple melodies. This is the process for "The Romantic ..." series
only. The Warpeds, Odes and Disciples all have their own process. I'm
not very good at describing my music to the unfamiliar and I would
discourage anyone from trusting descriptions of bands written by band
members. Musicians tend to be well versed in creative license with
facts.

Are you involved in improvisation ?

Personally, I think I'm a tentative improvisor though I enjoy playing
with improvisors. Boss Witch by The Shaking Ray Levis have a couple of
improvised numbers that Mary Richards and I play on and there's a
degree of improvisation on most of my solo releases.

You also appeared as a Dancer in some projects ... How do consider the
relationship between music and dance ?

Music is dance. 

Many of your compositions are named "The romantic side of ..."
Do you consider yourself as a romantic or is it a joke ?

Since my CDs are mostly short instrumentals I often find myself in the
awkward position of grasping for names. I sometimes group pieces by
process and then name them according to the group name. In the case of
the romantic series the last word is usually somehow significant to the
piece. For instance, "The Romantic Side of Masking Tape," features a
piano prepared with masking tape. Prepared piano pieces are usually
named after biblical disciples. "The Romantic Side of Masking Tape"
fell into both process groups so I had to flip a coin... o well. Yes, I
sometimes fall prey to romanticism and yes it is a joke. I try to take
very little seriously. Serious people scare me.

You often collaborate with many american musicians like Eugene
Chadbourne, Amy Demio or The Shaking Ray Levi... do you have other
projects in the USA ? Is there a real musical network in North America ?

The musical network in the USA isn't as strong as it once was. In the
mid to late '80s I sent out tapes of my music and I wrote letters to
people whose music I admired. I was a reluctant promoter at the time so
I would also set up shows for people who were passing through Detroit.
I think, in some small way, I helped Detroit become a city where
improvising musicians could perform. However to create a scene in the
US, you almost need a network of volunteers and non-profit status to
sustain interest... the way The Shaking Ray Levis have operated in
Chattanooga.

How were you involved in the "Nerve Events" organized by Nick
Didkovski's Doctor Nerve ?

In the '80s I wrote Nick and we started swapping recordings. Our
approaches were very different. In fact most algorhythmic composition
leaves me cold, however Nick's got a great twist on it. For the Nerve
Events he probably wanted a wide variety of approaches since the
project limited the source material. Nick has a talent for pulling off
unlikely projects.

How did you meet Brian Poole (from Renaldo & The Loaf) ? I thought
he had stopped playing... Do you know if he plans to release something
soon ?

Tom Timony from TEC Tones sent a copy of Only a Mother's "Feral
Chickens" to Brian Poole who told Tom that he liked our version of
"Mahogony Wood." I wrote Brian and another correspondence began. When
touring Europe with Only a Mother I had a week off between our tour and
Solofest so I asked Brian if he'd like to work on something together.
The timing was perfect for a weekend in Portsmouth. Even though Renaldo
and the Loaf are no more, Brian still records his own material. Tom was
interested in another release from Brian however that was before TEC
became so tentative. Who knows... Demosaurus ?

You also appeared in a compilation called "Eyesore: A Tribute to
the Residents". Don't you think it's a great idea to release covers of
he Residents (who are specialized in covers) ? Did you "Meet the
residents" ?

I met The Residents when I didn't know it was The Residents. Now that I
know their true identites are Jerry Lewis and Jim Carrey I refuse to
answer their phone calls.

There was a record called HAIKUS URBAINS that came out recently
on the Cave 12 label (with miniatures from Fred Frith, Iva Bitova,
Pierre Bastien, Ottomo Yoshihide... ) What was your contribution to
this project ? Can you compare it with Eliott Sharp's STATE OF THE
UNION (where you also appeared) ?

There are four brilliant releases that come to mind: Haikus Urbains,
State of the Union, Miniatures and The Resident's Commercial Album.
They all celebrate brevity and remind us that less can be more. In the
various commissions I've received, I've been forced to work with very
specific lengths. Some musicians might find it limiting to say
something in a minute however I consider it somewhat liberating to have
one of the parameters of composition forced on me. I composed,
multi-tracked and mixed down the Haiku Urbain contribution in a day
because I was leaving town the next day but I don't think the result
suffers from my constraints. One may as well befriend the clock.

I also heard about a concert of boats in a Harbour (during Sound
Symposium 1992 - St. John's, Newfoundland). Can you describe this
project ?

The Harbour Symphonies have been taking place since the beginning of
the Sound Symposium. Each morning of the Symposium a different composer
gets a shot at composing for six boats in the harbour at the invitation
of Don Wherry, the festival organizer. The composer is only dealing
with rhythm and note durations. He or she can not pick which notes are
played or what the tempo will be. The boats are all on shortwave
together and the tempo is determined by the clock. The score consists
of a line for each boat with a box per second so one either fills in
the box or doesn't. The kick is that the piece is being heard
throughout the harbour with an incredible natural reverb. Since it is
so site specific, documentation can be difficult.  For pure decibels,
none of the other boats could compete with the U.S.  Coast Guard.
Surprise, surprise...so what can one do about microphone placement...
o well.

Do you have any new projects on going for 1998 ? Who would you like
to work with ?

Currently I'm finishing up my MFA in Art and I'm building automatons
that I'm synching up with microcontrollers for my thesis show. I'd like
to record these pieces and put out a release of the results. Pierre
Bastien would be great to work with as long as our pets got along and I
hope to do something with the Shaking Ray Levis this year though we
have nothing firm planned yet... and Only a Mother should have another
release this year but mostly I'm looking forward to collaborating with
my garden on a few vegetables.


..............................................................