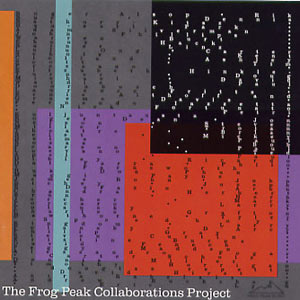 the frogpeak collaboration project
release date : 1998
label : frog peak music

chris mann is a poet and composer from australia. he's also a member of machine for making sense. he recorded a poem that was remixed in various ways by the 62 composers such as akira rabelais, larry polanski… david fenech recorded two tracks for this record, which is a double cd with a heavy booklet.
Tracklisting :
cd 1
01. roger alsop – ism
02. roger alsop – chasm
03. rik rue – carillon
04. rik rue – mapmaking
05. rik rue – drums
06. dennis bathory-kitsz – zeyu
07. dennis bathory-kitsz – quanh
08. dennis bathory-kitsz – sweeh
09. han-earl park – electronic study for limited resources 3
10. adam silverman – credit is the history of words without history
11. john philips – it was?
12. warren burt – mann-gling #1
13. warren burt – mann-gling #2
14. ebony hack – frippet, frippet, fripped, zrppd
15. ranier linz – piano
16. lulu ong – gribbet
17. lulu ong – alley cat
18. lulu ong – no enough coffee
19. carter scholz – managram
20. kent clelland – heather
21. kent clelland – isabella
22. kent clelland – tara
23. kent clelland – caat
24. kent clelland – amanda
25. kent clelland – elena
26. kent clelland – gwenivere
27. ashley scott – consciousnessed
28. tim prezzano – questionable
29. tim prezzano – hush, hush, eye to eye
30. elizabeth hinkle-turner – saliva
31. doug michael – radio sky part ii
32. david wardle – chopper squad
33. paul doornbusch – iceberg
34. lawrence fritts – minute variations 1-4
35. ernie althoff and graeme davis – best intentions
36. fernando iazzetta – crowd
37. nick fortunato – filter: mann (sense)
38. nick fortunato – filter: mann (eeeeiip!)
39. nick fortunato – filter: mann (hyper)
40. petri kuljuntausta – how many does it take to define a problem?
41. petri kuljuntausta – replica in drag iii
42. roger dean – dust (the scientis speaks)
43. jon nelson – a chris mann mambo
44. steven miller – interruptions
45. steven miller – free rain
46. steven miller – firecrackers – far apart
47. trojan theatre – basho
48. trojan theatre – tungba
49. brian belet – difference (no doubt it queues)
50. brian belet – an abstract (difference (queues)
51. mickey helms – technicolor
52. mickey helms – galactic bar
53. mickey helms – phantom
54. paul rosas – depth perception
55. bob pearson – adaptive parasites
cd 2
01. paul luevano – sitarbirds
02. ted apel – lay investiture
03. paul dibley – a question?
04. ricardo dal farra – words through the worlds
05. philo t. farnsworth – mann.00
06. philo t. farnsworth – mann.01
07. philo t. farnsworth – mann.02
08. huk don phun – one
09. huk don phun – two
10. maggi payne – chris mann piece
11. james bohn – babylon
12. john richey – gibber
13. john r. defazio – i. blacklight
14. john r. defazio – ii. phasing tree
15. john r. defazio – iii. metal reeds
16. john r. defazio – iv. time passes
17. arun chandra – mann in the middle
18. arun chandra – mann over all
19. herbert brŸn – untitled
20. herb jercher – dags
21. mark porcaro – question one
22. mark porcaro – question two
23. mark porcaro – question three
24. mark porcaro – question four
25. larry polansky – chris choir
26. charles grafton hawthorne – four boys mannin'
27. tyler "speedboy" kingdom – chris trio
28. tyler "speedboy" kingdom – chris crowd
29. tyler "speedboy" kingdom – chris solo
30. tyler "speedboy" kingdom – chris quartet 2
31. tyler "speedboy" kingdom – chris mob
32. larry polansky – chris morph 1
33. larry polansky – chris morph 3
34. larry polansky – chris morph 4
35. larry polansky – chris morph 5
36. d'arcy philip gray – thereason – crying
37. d'arcy philip gray – imean-is – intermezzo
38. d'arcy philip gray – tautology – clouds
39. d'arcy philip gray – thereason – epilogue
40. steven curtin – leapfrog
41. kristine burns – frogpeace
42. david fenech – self evident (a judgement is a perfect rule)
43. david fenech – like a tautology
44. peggy madden – circe
45. peggy madden – adnawat
46. peggy madden – nada
47. alessandro fogar – inner winds
48. carter scholz – an economy of virtual knowns
49. dennis miller – 1
50. dennis miller – 2
51. dennis miller – 3
52. dennis miller – 4
53. dennis miller – 5
54. timothy horrigan – untitled
55. douglas repetto – airbugmachine
56. david hirst – mann project
57. akira rabelais – three minutes of fifteen seconds
58. andrew bucksbarg – autonomic
59. eric lyon – conversations i: a micro-oratorio
60. chris mann – original soundfile