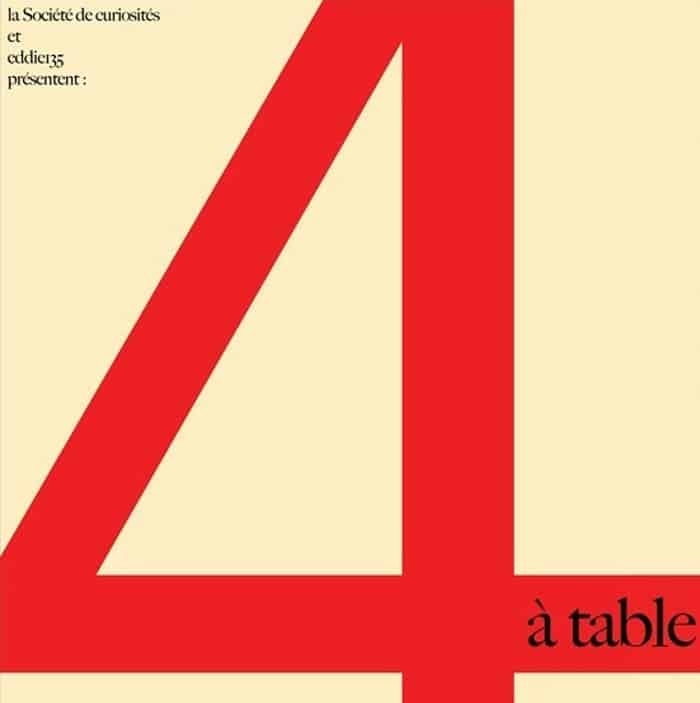 4 à Table
Label : eddie135 / la société de curiosités
release date : 2009
format : download (link)
4 a Table is a set of four recordings with one musician playing live over another musician that just recorded live. the goal is to make music in 4 takes. so for each player, let room for the next ones and put his fingerprint… inlcudes contributions by Matthieu Ponroy (cassette), Adrien Kanter (guitar, electronics), David Fenech (guitar, voice), Laurent Chambert (computer). Recorded on December 17, 2009 by Grégoire Auclerc.
Création en temps réel de compositions originales
sur la base d'une série d'improvisations successives,
4 à table est un jeu d'improvisation/composition.
Mode opératoire :
Un premier musicien improvisera, seul. Sa performance est captée puis diffusée immédiatement,
offrant la terrain sonore sur lequel le second musicien jouera à son tour.
Et ainsi de suite, jusqu'au tour du dernier musicien, dont la participation, se superposant à toutes les précédentes, marquera l'aboutissement de la pièce.
Seront invités à se produire une poignée de praticiens aux esthétiques, parcours, et intentions différentes.
Quatre invités par soir, pour deux services d'environ 45 minutes.
Avec Eddie 135 au mixage.
******************************
Jeudi 17 décembre 2009
Laurent Chambert (ordinateur) – David Fenech (guitare et voix) – Adrien Kanter (guitare et électronique) – Matthieu Ponroy (cassettes)
Jeudi 26 novembre 2009
Quentin Dubost (guitare préparée) – Thierry Madiot (trompes et trombonne) – Sylvain Rifflet (clarinette et électronique) – Carol Robinson (clarinette basse et voix)
JEUDI 29 Octobre 2009
Hafdis Bjarnadottir (guitare) – Thomas Bloch (ondes Martenot) – Justine Chen (zheng) – Jocelyn Mienniel (flûtes)
JEUDI 24 Septembre 2009
Judikaël Mauffret (saxophone) – Fred Nipi (bruits) – Laurent Pascal (harmonica) – Valentina Traïanova (voix)
Jeudi 30 Juillet 2009 : Session 4
Jean Bordé (contrebasse) -Catherine Brisset (cristal bachet) -Robert Engelbrecht (violoncelle) -Masahiro Kamihatsubo (machines)
Jeudi 25 Juin 2009
Noel Akchoté (guitare) – Fanny Lafargues (contrebasse) – Jerome Noettinger (dispositif électro acoustique) – Cathy Heyden (saxophone)
Jeudi 28 Mai 2009
Jean-Marc Foussat (synthétiseur analogique) –Thomas Tilly, alias Tô (microphones) –Marielle Martin (voix) –Dan Warburton (violon)
jeudi 30 Avril 2009
Marin Favre (violon et/ou bols) – Jean-Luc Guionnet (saxophones) – Karine Larivet (jouets+électroniques) – Julien Skrobek (guitare)