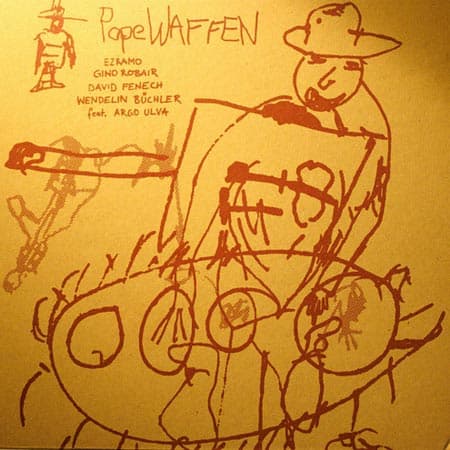 PopeWaffen
release date : 2010
label : corvo records
Popewaffen – Vinyle LP (Corvo/core 001) 2010
( CORVO RECORDS ) Price: €18.00
"The work is settled between weird pop, avanttrash, improvised music, mediterranian folklore and noise drones. As the artists are coming from different social and musical backgrounds, the recording is not just a mix of sounds and names but a creation of unique and exciting experiences." High quality live recording, made at Ausland, Berlin, March 27, 2010.
Tracklisting :
A1. easter sunday raid
A2. deserto nella bula notte blu
A3. sibilo canino
A4. stellvertreter zum stellwerkdreher
B1. the creator has a masterplan
B2. hitodama
B3. crepare di maggio
EZRAMO – vocals, prepared zither, sampler, melodica
GINO ROBAIR – blippobox, percussion
DAVID FENECH – guitar, walkman
WENDELIN BÜCHLER – prepared guitar, theremin
feat. ARGO ULVA – trumpet, electronics
LP // 7 tracks // 28:45 mins. // strong handmade cardboard cover with custom silkscreen coverprint // numbered edition of 500 copies.
* Gino Robair is a percussionist, music journalist, and published composer living in the San Francisco Bay Area. Gino frequently tours North America and Europe as a soloist and often improvises in ad-hoc groups. He has performed and/or recorded with Anthony Braxton, Tom Waits, Fred Frith, John Butcher, Otomo Yoshihide, Eugene Chadbourne, John Zorn, Nina Hagen, Thinking Fellers Union Local 282, ROVA Saxophone Quartet,  The Club Foot Orchestra, and many more …. Gino has studied percussion with Ron George, AMM percussionist Eddie Prevost, William Kraft, and William Winant; studied composition with Barney Childs, Lou Harrison, David Rosenboom and Larry Polansky; and has earned two masters degrees–Electronic Music and composition–from Mills College, Oakland CA. He also runs the Rastascan Label.
* Ezramo (aka Alessandra Eramo) is an italian sound artist, composer and performer, currently living and working in Berlin. Her research is focused upon the hidden archaic memory in music and upon the writing in its multiple forms. Her main instrument is the voice, combined with acoustic instruments like prepared zither, piano, percussion, theremin and field recordings. She played and recorded with LaDonna Smith, Fred Frith, Xabier Iriondo, Jon Raskin, Alexandre Kittel and many more…
* Wendelin Büchler is a german guitarist that plays prepared electric guitar. he runs the Corvo records label. Currator and teacher, he has played and recorded with musicians such as Fred Frith, Xabier Iriondo. He currated the Max Experimentl music series and now lives in Berlin.
Reviews :
Excellent record of improvised music recorded at a Berlin venue and played by an international five-piece of musicians. The American percussionist Gino Robair might be known to some of you, but for me Ezramo is quite a revelation; this Italian player delivers some tremendous effects with her distinctive vocalisations, her zither playing, and sampler-playing; I'm looking forward to hearing her solo LP on this label. Two guitarists, David Fenech and Wendelin Büchler complete the band, plus there's the guest trumpeter Argo Ulva; everyone contributes electronic elements to the crackling environment as well. I think what I like most here is the strong sense of cooperation, leading to a very productive musical workplace; no showing off, much genuine dynamic interaction. To this I would add the overall group imagination, the highly pleasing mixtures of sounds and playing styles, and the way that incredibly free and open music can be produced in a orderly and civilised manner, without the need for frenetic frottage and hand-gesturing every five minutes in order to achieve a climax. The title of this release is quite ingenious, making use of the German language's propensity for compression of ideas into a single word; it roughly translates as "PopeWARFARE", implicating the Vatican and the Catholic church in modern conflicts, and perhaps arms trading to boot. The theme is picked up by the child-like drawings on the cover (I particularly like the crude drawings of various handguns) which indicates that it might be more of a piece of sloganeering than a thought-through political statement, but it's nice to see some social criticism back in the world of free improv again. We haven't had much of that sort of radical thinking since John Stevens in the 1970s (though Charles Hayward made good efforts). Recommended record; great music, compressed, exquisite, taut, and beautifully recorded and presented too. Nearly perfect.
Ed Pinsent, The Sound Projector #20 – All Vinyl Issue 9/2011
Superbe rencontre enregistrée live à Berlin le 27 mars 2010. Une bien belle prise de son par Dave Bennett de ce quintet original avec EZRAMO (voix, guitare, mélodica, sampler, sitar préparé), artiste sonore italien actant notamment dans les musiques pour films et théâtre, Gino ROBAIR (percussions), percussionniste californien que l'on a pu entendre avec Tom Waits, Peter Kowald, Terry Riley ou encore Anthony Braxton (rien que ça !), David FENECH (guitare, baladeur), entendu ces derniers temps en trio avec Ghédalia Tazartès et Jac Berrocal, Wendelin BÜCHLER (guitare préparée, theremin), guitariste allemand ayant joué avec Fred Frith, et une invitée, Argo ULVA (trompette et électroniques). Sept morceaux à la subtilité rare entre le bricolage primitif, la recherche d'une certaine mélodie dans l'improvisation collective, un regard astucieux vers les musiques électroacoustiques de chez ses précurseurs, une habileté dans la quête de milieux arides un tantinet blues… Telle est la marque de fabrique de ce quintet improbable pour un disque prêt à marquer les esprits de par ce savoureux mélange, rarement entendu d'aussi belle manière ces dernières années. Il en ressort une fraicheur incroyable, qui nous replonge parfois dans les productions lo-fi de chez Rectangle. Sur terre jusqu'à épuisement de ses 500 exemplaires.
Cyrille Lanoë, Revue et corrigee 3/2011
Sarebbe buon costume, quando si trattano dei musicisti per la prima volta, riuscire a dare delle coordinate ben precise. Ma se il re è nudo anche il sottoscritto in questa circostanza lo è. In parole povere non ne so una fottuta minchia. Non so neppure se "PopeWAFFEN" (da qualche parte riportato come PopeWAFFEN!) è solo il titolo del disco o anche il nome del quartetto (qui addizionato dal trombettista Argo Ulva) che lo ha registrato. Le poche cose che so provengono quasi interamente dalle brevi note leggibili sul sito della Corvo Records alle quali rimando il nostro lettore. Quasi interamente, ché Gino Robair da quando ha collaborato con Tom Waits lo conoscono anche i lettori delle riviste per l'infanzia. Il francese David Fenech, poi, è noto per aver riportato 'in vita' il grande Ghédalia Tazartès e, sicuramente lo ricordate, abbiamo anche pubblicato su sands-zine la traduzione di una sua intervista a quest'ultimo. Ma riguardo agli animatori del progetto (Alessandra Ezramo e Wendelin Büchler) è quasi buio completo. I due fanno di frequente coppia (sicuramente a livello artistico e forse anche nella vita) e su internet ho trovato anche traccia di una loro collaborazione con Xabier Iriondo. Sicuramente i due sono amanti del vinile, dal momento che al momento hanno deciso di pubblicare i loro materiali in questi due LP ben confezionati ed in tiratura molto limitata (rispettivamente a 500 e 300 copie). Sulla musica: improvvisazione radicale non idiomatica, un settore nel quale stanno forse uscendo un po' troppe cose, interpretata ai massimi livelli. Quello che più mi piace in questo tipo di lavori è l'intercambiabilità dei ruoli e l'incertezza nella quale viene precipitato l'ascoltatore, dal momento che non si è mai sicuri su chi ha prodotto quello o quell'altro suono. Potresti prendere uno dei migliori dischi d'improvvisazione radicale non idiomatica e ascoltarlo per una vita intera, e alla fine moriresti con il dubbio su chi e come ha fatto quel dato effetto acustico. Certo già con la new thing si poneva il quesito dell'intercambiabilità dei ruoli, o meglio dell'annullamento di vecchie categorie come sezione ritmica, sezione fiati, strumenti solisti eccetera. Ma comunque un tamburo restava tale e restava tale anche un sax. E un gruppo restava in ogni caso composto da enne entità ben distinguibili. Qui le varie personalità sono davvero fuse a formare un'entità unica e, anche senza considerare le possibili manipolazioni elettroniche o d'altro tipo, un tamburo può essere suonato con l'archetto e una tromba può essere percossa come un tamburo. Siamo veramente agli antipodi di una sinfonia di Beethoven, dove ogni nota ed ogni strumento stavano al proprio posto. Siamo nel regno dell'informale.
Ettero Genio, Sands Zine 8/ 2011
"The very first release in this German label's catalog is a vinyl comprising a communal effort recorded at Berlin's Ausland in 2010 for a total duration of less than half an hour (good move, if you ask me: improvisational statements exceeding this time span, if not supported by proven artistry, sound rather boring to this reviewer's ears). Some of the group's members have worked – in various guises and projects – with Fred Frith, whose zing-and-jangle ghost looms on the near-entirety of the music. The palette is indeed rich in strings (prepared guitar and zither) but a measure of balance is assured by the presence of flexible sampling, assorted types of electronic device, a theremin and the occasional eruption of Ezramo's voice, which in "The Creator Has A Masterplan" chatters, roars and laughs wickedly in a cheap embodiment of a possessed version of Shelley Hirsch (forgive me Shelley, for I have sinned). Still, there's a quantity of lively energy in several of the combinations generated by the participants; inconveniences, malformed chords and twisted tunings become the means for different sorts of charged reverberation, the decentralization of instrumental personality at the basis of a couple of unlawful tracks where getting involved by the complexity of the collective timbral tissue comes easy. All things considered, this LP deserves a number of attentive listens, offering different angles of enjoyment and – why not – fun."
massimo richi – touching extremes
"Międzynarodowy kolektyw odpowiedzialny za PopeWAFFEN to wypadkowa kabaretu, grupy free improv i chyba jeszcze kilku innych trudnych do zidentyfikowania elementów, sami wspominają między innymi o avanttrash, weird pop, noise drone. Wszystko się zgadza. Utwory bogato utkane z warstw akustycznych i elektronicznych, łatwych do wyłapania brzmień instrumentów i niemal nierozpoznawalnych szmerów i hałasów, głosu Ezram – nieraz zupełnie piosenkowego, innym razem ograniczającego się do wydawania niekontrolowanych odgłosów. Intrygujące i trzymające w napięciu z każdym kolejnym utworem, trochę jak stary strych, na którym, przeczesując kolejne sterty szpargałów, co i rusz odkrywamy nowe przedmioty raz zupełnie zapomniane, innym razem budzące żywe skojarzenia lub tylko ich odległe echa. Nawet gdy spojrzymy w pozornie pusty kąt i zaczniemy się baczniej przyglądać okazuje się, że podłoga w nim usłana jest drobnymi przedmiotami, a każdy ma jakieś znaczenie."
mirt. m | i magazine 5/11
Avant trash free association noodling between these multi-national weirdos. Ezramo (Alessandra Eramo) is a Italian sound artist, Robair the prolific Bay Area freakophile, Fenech a French composer/guitarist, Buchler a German guitarist who runs Corvo Records, and Argo Ulva (Liz Allbee) another Bay Area transplant played in groups like Le Flange Du Mal and Neung Phak. Live recording at the ausland venue in Berlin captures the raw playful energy of this collaboration of oddlings and bizarrities. Tingling zither demons dancing aboard a zeppelin raid, spaghetti standoff at a nautical traffic stop between sewer slob and nervous neddy, bloated sumorai showdown on a squishy winter night, goomprov drone and sharpie shredding amidst goofsayer chants. On side B we have a shaman jazz freekout, goblin baby lullaby and mutant chicken plays funerary violin singing along with village preschool meditations. A truly perplexing experience, delicious.
abacus, KFCJ review (link)
Es liegt etwas grund-sympathsiches in der Labelgründung von Corvo, das mich an die Euphorie um die eigene Installation des Anthropom,etrics-Imprints erinnert. Ein junger Bursche (Wendelin Büchler, auch Musiker), geht mit Improv-Vinyl an den Start, in einem Genre, dessen Publikum mit Tonträgern eh hadert und mit Vinyl schon mal erst recht. Bitte also unbedingt durchhalten! Und noch etwas ist toll: die zweite Seite des Livemitschnitts aus dem Ausland in Berlin-Friedrichshain ist so Improv-untypisch dronig, dabei satt, elektronisch und vielschichtig, das hätte auch aus einer postindustriellen Werkstatt kommen können. Aber hey, 2011 interessieren Kategorien wenig und so sollte das Erfrischende an PopeWaffen eigentlich selbstverständlich sein. Im ersten Teil des Albums sind die Instrumente vereinzelt aktiv, man hört wie sich die Player zueinander stellen und das Hören im Spielen trainiert wird und gleichzeitig zur Handlungsanweisung mutiert. So schmuck und schnörkellos kann Improv sein. So zart. So rau. So neu.
Zipo – Aufabwegen (link)