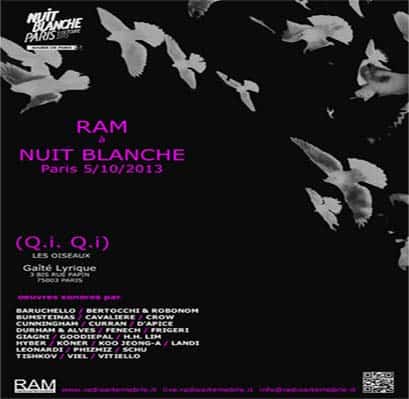 (Q.i Q.i)
LES OISEAUX
Play list
1-Gianfranco Baruchello (Italy 1924): The forest has something to say (excerpt). The absence of sounds in a forest becomes a noise here: the artist has superimposed the chirping of birds recorded in four different moments during a walk. The result is a montage of times and spaces that amplifies and makes the real fictitious.
2-David Bertocchi (Italy 1969) & Robonom: Poule/son (Chicken/sound that in Italian is a play on words) This is a fake field recording of a chicken coop, which reproduces pseudo sounds obtained entirely with old-fashioned analog machines.
3-Arturas Bumsteinas (Lithuania, 1982): Gwizdaly (whistle) (excerpt) From the recording of a continuous series of fischettìi, new sound structures similar to hisses have been composed with the intent of creating a purely acoustic experience without any spectacularization.
4-Ergo Phizmiz (UK, 1980) Ornithological Counselling (excerpt) " Ornithological Counselling is a series of field recordings of a bird's psychiatric unit, for all our feathered friends who find it difficult to cope with the modern world, or who suffer from insecurity. Consequently, the recording can also be used as a tool to relax and soothe the problems of birds, domestic or wild".
5-Alvin Curran (U.S., 1938) La Favola The undisputed protagonist of many fairy tales, the king of singing birds is the protagonist of a musical experimentation. The little nightingale is capable of producing a song made of clear and strong tones, considered among the most complex and is composed of verses of single and double tones.
6-Richard Crow (England, 1951): Corbeau Playing with his surname, the artist, in his experimental research on sound, recorded the verse of the crows with the intention of producing in those who listen to psycho-physical suggestions.
7- Jimmie Durham and Maria Thereza Alves (Arkansas, 1940 and Brazil, 1961): Porta Capuana in Naples La Porta Capuana is an ancient gate to the city of Naples and an important crossroads of communication routes. Right on the white marble arch in the evening there are swifts, small migratory birds which noisy carousel is confused with the sounds of the city.
8- Riccardo Giagni (Italy, 1956) La vraie musique, la seule… It is a tribute to Olivier Messiaen's Catalogue d'oiseaux, reflected in it "and giving back to his favourite animals their authentic singing, recorded in their respective natural habitats". For me, the vraie musique, the seule a toujours existé dans les bruits de la nature. O.M.
9-H.H.Lim (Malaysia, 1954) Hard Rain Pigeons Story (excerpt) Chronicle of the birth of a family of pigeons nested in a window in the artist's house, kept under observation during their growth. The pouring and incessant rain marks the time like a metronome.
10-Leonid Tishkov (Russia, 1953) Moscow Nightingale The song of a Muscovite nightingale in the most important historical cemetery, Novodevichy, one of the rare cemeteries in Russia that survived the Stalinist destruction and that hosts great artists, writers and composers.
11-Fabrice Hyber (France, 1961) Mouettes pigeons et moi à Brest le 25 juin 2013 As in a personal diary with reference to the atmosphere of the place and the mood of that day, the artist records his "dialogue" with the seagulls in the port city of Brest.
12-Koo jeong A (Korea, 1967) Robin experiences suffering "A robin speaks of the pains of capitalist success. An engraved speech. A few words."
13-Stephen Vitiello (U.S.A, 1964 ) The smallest of wings (excerpt) "I used the wingbeat of hummingbirds captured in the Amazon, combining it with that of the New York moths, surprisingly detected in very high definition by my colleague Joseph Scheer.
14-Francesco Cavaliere (Italy, 1981) Precipitated in the world Utaclion… animals from the furs and streaks discolored in the sun.it is a new instrumental version, extracted from an audio drama built in two parts entitled: Sky Hook. At this moment, the beginning of the second part, the two protagonists are moved again in the Utaclion territories where, animals with faded furs and birds with particular streaks, wander and appear to both eyes, miraculously.
15-Filippo Leonardi (Italy, 1979) Volounico (excerpt) "The pigeon does not know the round trip, it can only return to its dovecote. In this communication game, the pigeon has been exploited and man has used the bird's need to return to the nest to take advantage of it.
16-Thomas Köner (Germany, 1965) Bellbirds (excerpt) During a trip to the Australian continent the artist recorded the verses of a kind of bird that emits sounds similar to bells. A tropical rain is the background.
17-Donatella Landi (Italy, 1958) La Specie (1996) (excerpt) The verses of 13 tropical species of birds such as the Ara Macao, the Tricoglosso, the Cacatua Galerita, the Pezoporo that would make you imagine free and wild places in reality, were recorded in front of the main aviary of the Zoo of Rome.
18-David Fenech (France, 1969): Premier vol de Nuit (excerpt?) A self-employment of the people of newness and the ambiguity of their faces.
19-José D'Apice (Brazil, 1949) Xingu "In Xingu, an indigenous reserve within the Amazon, the Indians walk among the thick vegetation in search of food and Araponga, Inhambu-guaçu and Ulrapuru sing for them. Forever."
20-Jonathan Frigeri (Switzerland, 1979) Musurgia Volucris (excerpt) "Celui qui aime les yeux ouverts marche à son but en jouant avec sa vie. Sache que le Simorg manifeste hors du voile sa face aussi brillante que le soleil, il produit des milliers d'ombres sur la terre ; puis il jette son regard sur ces ombres pures.Il déploie donc son ombre dans le monde, et alors paraissent à chaque instant de nombreux oiseaux.
21-Goodiepal (Denmark, 1974) Mechanical Bird (excerpt) In a patient work of 10 years Goodiepal has built a mechanical bird which has become a feature of its many events around Europe. It is a kind of music box that whistles like a bird.
22-David Cunningham/Paola Pivi (Ireland, 1954, Italy, 1971) Peruvian Wren It is an improvised duet within the project Grrr Jamming Squeak! by Paola Pivi who set up a recording studio with free admission, inviting visitors to play with the sounds of 100 animals, made available by the Cornell Lab of Ornithology.
23-ManfreDu Schu (Austria, 1959) Body of Bird "Every night I investigate my body through ferocious dreams. The air penetrates my bizarre plumage… The air envelops me in its current and makes me fly. This is a time to be TRUE."
24-Cesare Viel (Italy 1964) I don't know what a place is anymore "To the birds that come to visit me I sing several times the sentence: I don't know anymore what a place is, a displacement, another part. It is a form of gift, a gift to the air and to nature".