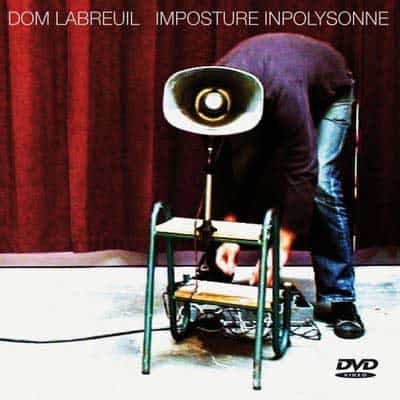 dom labreuil – imposture inpolysonne
release date : 2009
label : inpolysons
Exploring new horizons seems the main topic in Dom Labreuil' s art form. After studying by turns photography, drawing, painting and sculpture, it's no suprise to find him scraping with a sickle with his video art work "J'ai descendu" shown at a french concrete pictures festival in 2007. His pictures are made with almost nothing but ephemeral stuff, found footage, performing art, improvisation and curiously lifetime moments emerge from the collision between images and music. That's the way he worked on compositions by Dominique Grimo, David Fenech, Val Poher, Pascal Comelade, Palo Alto, Colleen, Jean-Marc Zelwer, Beirut, Faris Nouarallah… In 2008 he took part again in the " golden raw " selection of the concrete pictures festival with "Madame Insomnie, chamboulée conserves", a video created from a dialogue between his pictures and the music from Pierre Bastien and Dominique Grimo's album "Rag-Time Vol.2" released by the label Inpolysons. Following this fruitful collaboration, Inpolysons' manager Denis Tagu proposed him to apply this process to the entire catalogue of the label. And there it is ! In the DVD "Imposture InPolySonne" Dom Labreuil composes his images on the off screen musics created by Klimperei, Dominique Grimaud, Pierre Bastien, David Fenech, Toupidek Limonade, L'ensemble Rayé and Jean-François Pauvros.
Tracklisting :
01. jean francois pauvros – intro de grass chavirée
02. grimo – un bateau et des vacances qui passent
03. grimo – miss pixels à la plage
04. david fenech – crying for nothing
05. david fenech – alaeeeygh ("ghost playback")
06. pierre bastien + grimo – marinela parkinson
07. pierre bastien + grimo – madame insomnie
08. pierre bastien + grimo – mouettes game-mode
09. pierre bastien – crazy work
10. toupidek limonade – c'est comment là haut ?
11. klimperei – l'hommage plastique
12. l'ensemble rayé – last test before the crash
13. toupidek limonade – nuptial parade
14. toupidek limonade – the worldtradeundertention
15. klimperei – on a bien rigoalé
16. toupidek limonade – quand c'est parti c'est parti
---
En même temps que la compilation We All Believe in Utopia dont nous parlions il y a 3 semaines, sortait en quelque sorte le pendant visuel avec ce DVD du plasticien Dom Labreuil. Les morceaux ici mis en images sont différents de ladite compilation, mais de la même façon ce DVD permet de faire un tour, certes plus restreint, des artistes du label Inpolysons. Cela dit, cette Imposture Inpolysonne n'est pas a considérer comme une compilation visuelle de morceaux publiés sur le label, mais plutôt une collection de court-métrages de Dom Labreuil. Si les 16 films ici présentés sont mis en musique via des morceaux de David Fenech, Pierre Bastien ou Klimperei, on se rend assez rapidement compte qu'il ne s'agit pas de clips vidéos au sens où on l'entend généralement. La plupart du temps, le titre du film n'est d'ailleurs pas le titre de la pièce musicale mise en image, mais quelques mots qui illustrent un film qui lui-même, comme par magie se marie à merveille avec la musique, comme ce film de vacances avec deux enfants qui s'amusent sur la plage avec en fond sonore le rétro Les Yeux Bleus de Grimo. Dom Labreuil fait preuve d'une économie de moyen qui peut déconcerter mais à notre époque ou YouTube canalise une audience phénoménale, l'idée se révèle au final plus importante qu'une image de papier glacé. Son travail vidéo prend différentes formes : films de vacances ou week-end en famille (Miss Pixels à la plage), plus classiquement des effets vidéos appliqués à des films, notamment une pixellisation qui se prête parfaitement à la toy music ou aux sonorités vidéo-ludiques de Pierre Bastien & Dominique Grimo (Mouettes Game-Mode) ou Klimperei (On a bien riGOALé). On préfèrera peut-être son travail sur des films vintages auxquels il donne une nouvelle jeunesse, déformant un groupe de musiciens sur les guitares triturées du Alaeeeygh de David Fenech ou apportant une superbe touche pop sur le Georges was not invited de Toupidek Limonade.
Mais on appréciera au mieux le travail de Dom Labreuil lorsqu'il filme ce que l'on qualifiera de ses propres performances avec en tête le joli alignement de sacs plastiques flottants au grès du vent sur L'hommage plastique et l'absurde Crazy Work, faisant un parallèle entre le balai de camions sur un chantiers et un homme qui transporte des bouts de bois d'un point à un autre sans la moindre organisation. Réalisé en "studio" on notera enfin The WorldTradeUnderTention lors duquel Labreuil démoli une pile de cagettes avec une pelle, et enfin Dernier fondu sortant Noir qui conclu le DVD en positionnant divers objets noirs devant la caméra afin de simuler un fondu au noir.
( fabrice allard, etherreal – link)