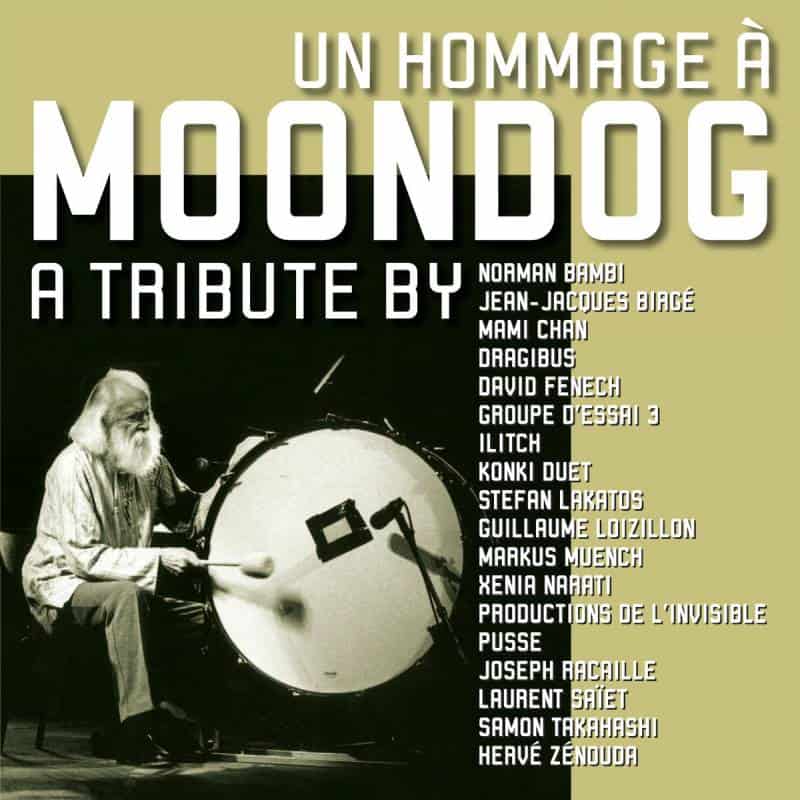 Tribute to moondog
Release date : 2005
Label : Trace
this is a compilation of moondog covers or music inspired by him. there are also cuts of an interview of moondog by saul smaizys, made around 1971 in chicago.
Tracklisting :
01. Moondog interview – Birth
02. Les Productions de l'Invisible – All is loneliness pour moi
03. Guillaume Loizillon – Tribal tribute
04. Markus Muench – Street-Pow-Wow
05. Pusse – Les armes du chien lune
06. Moondog interview – Childhood
07. Hervé Zénouda – A man on the moon
08. Laurent Saïet – Heimdall fanfare / Fujiyama
09. Moondog interview – Percussion
10. Stefan Lakatos – Snaketime rattle
11. Moondog interview – All is loneliness
12. David Fenech – All is loneliness
13. Groupe d'Essai N°3 – Black night
14. Moondog interview – Mind
15. Konki Duet – Tree trail
16. Dragibus – Pygmy pig
17. Moondog interview – I had a dog…
18. Joseph Racaille – Gergovie – Ambrioris – Un village gaulois – Près de Gergovie
19. Jean-Jacques Birgé – Young dynamite
20. Moondog interview – Immortality
21. Xenia Narati – Fleur de lis
22. Ilitch – Dogmood
23. Mami Chan – Kolo kolo moon
24. Moondog interview – Beethoven of the beat
25. Samon Takahashi – Frankanon introduction of tap trees against the Torisa message
buy track
26. Norman Bambi – Moon, run, dog, catch
27. Moondog interview – poèmes
28. Les Productions de l'Invisible – ceux qui inventent…
reviews
c'est a new york, où il vit de 1949 à 1974 que louis t.hardin (1916-1999) prend le pseudonyme de moondog. à manhattan, la présence de ce musicien de rue aveugle, portant pelisse de moine et casque de viking, ne passe pas inapperçue. mais c'est surtout dans l'histoire que moondog va laisser une empreinte indélébile. ancré dans la tradition européenne (voir l'usage rigoureux du contrepoint, de l'harmonie classique et de formes comme le canon, le madrigal ou la chaconne), son art se distingue déjà par la vigueur de ses mélodies, aussi fraîches qu'une aube printanière, et de ses rythmes, empruntés aux indiens d'amérique. (…) réunis par un label français, les protagonistes d'un hommage à moondog tentent de se réapproprier ce singulier héritage. le projet est périlleux; hormis quelques enfantillages (dragibus, mami chan) et une poignée de copie hors sujet, il tient pourtant la route. rythmé par de courtes interventions parlées de moondog lui même, il mêle les excellentes contributions d'un ancien partenaire du compositeur (stefan lakatos), d'instrumentistes en liberté (le violoniste markus muench, la harpiste xenia narati) et de membres actifs de l'internationale underground (hervé zénouda, konki duet, david fenech, samon takahashi). tel un émouvant faire-part, ce disque révèle que moondog a eu beaucoup de petits, qui ne lui ressemblent pas forcément mais possèdent son esprit spéculatif et son goût du jeu.
richard robert – les inrockuptibles numéro 550 (13 juin 2006)
sept ans après sa mort, un hommage à moondog rassemble une vingtaine d'artistes. entrecoupé de brèves séquences où le musicien répond, en 1971, à quelques questions de saul smaizys, pour radio triade, à chicago, cet album regorge de petites merveilles, comme une série de chansons arrangées et traduites en français pour les voix de pascale degli esposti et serge louis ferrand (all is loneliness pour moi, ceux qui inventent…), heimdall fanfare nappé de guitares grâce à laurent saïet, all is loneliness perçu à la manière d'un mantra par david fenech ou encore pygmy pig dans un arrangement très residents de monsieur pingouin, avec la voix acidulée de lore bargès. à l'écart de la techno, guillaume loizillon offre un élégant tribal tribute, pour balafon et électronique, tandis que le violoniste markus muench reprend un canon à cinq voix de moondog, dont les accords sont répétés et ralentis, à la manière de pachelbel dans discreet music d'eno. tout aussi inventifs, les hommages de joseph racaille, avec un village gaulois près de gergovie pour ensemble d'instruments à vents (flûtes) qui pour le coup sonne comme … de la musique chinoise, ou encore norman bambi, avec un moon, run, dog, catch idéalement contorsionné par la boite à rythme.
franck mallet – les "poissons d'or" / classica repertoire
many tribute cd's have in their compilation of artists some people who understand the spirit of the dedicator, and show something of this spirit, even when shown from a different world or perspective. then there are others who only take minor elements like tunes or melodies, but forget the spirit, or only half understand it, and were not really that much affected by it. then there might also be a few parasites who take a tribute as a personal occasion to promote their music, without showing much significance. the best tribute cd's are compiled by those who only accept the first kind of results.
i have the impression that the label themselves took the opportunity to promote a few artists, with a hope they should take such an advantage of an occasion completely seriously, and also asked moondogscorner which artist would give the most successful results. this means most music is somewhat interesting, holds itself more or less together, but we still have all three mentioned categories, no matter if the music is good or not.
in between the tracks, a few fragments from an interview with moondog are added, giving extra insight into the man, and also a few street poems, narrated rather quickly.
there is no doubt that the essence of moondog is clearly adapted and mixed with their own personality, by stefan lakatos, who was not only a pupil of moondog, but who also plays his original instruments, and xenia narrati, who also had a full tribute cd, and had some lifetime dedicated to moondog, something which leaves of course its clear marks (in my radioshow i said : "xenia narrati's music sound as if it is warmed up like some wind up mechanical music instruments.") if you really listen carefully enough to moondog it should change your perspectives on music. also a nice tribute is guillaume loizillon's "tribal tribute" (in my radioshow i said : "guillaume captures well the spirit of some essential element in the rhythm, of moondog, (with piano) and takes it back to a tribal association, while leaving it classically inspired"). david fench, seemed to have been honestly haunted by the melody of "all is loneliness", and plays his own, modest version. jean jacque birgé combines harp, flute, loop glockenspiel, tape recording, and takes something of moondog into a new modern mixing world, and is a fine attempt to do so. also konki duet's vocal rondo sounds like an honest tribute to me. this is comparable to the result of the last track by production de l'invisible who makes a convincing enough theatre poetry based vocal interpretation based upon moondog's music. although a bit far away from moondog, joseph racaille's piece with a loose medieval feeling, and with references to a different local regional subject, played by flutes and percussion, still fits nicely. then we also have a few attempts which take the modern music world vision as their fundament, to such a degree this area is already of a different character compared to moondog, but this does not mean this approach cannot be tried. dragibus's kind of remix into alternative pop sounds ok to me. less acceptible i think is the use of disturbing noise, electronic sounds, with sounds as if from stone and iron, with electro-acoustic foundations like by group d'essai 3, because this is more disturbing in the moondog context, because moondog who has his origins in 19th century music and with ethno flavoured melodic and rhythmic and also with an inspirational purity of sounds and compositions ; in that case any factor of leading chaos and noise cannot fit with it at all. also pusse's track seems to fail any essence of moondog's music. also ruthless "stealing" of samples of recordings to do just a chaotic remix, like by samon takahashi i am sure would have offended the master when it would have been done when he was standing next to this. the few pieces with references to the folktronica genre can still convince me because of the same amount of rhythm and balanced sound exploration, with mami chan as one of the better examples, in a more japanese softpop style (-in my radioshow i said : "mami chan gives moondog's music a new meaning, and made this bedroom pop lullaby, a free musical box inspiration."- followed by norman bambi who with his own humour said he left out the "moon" aspect because he will never go to the moon, and left the "dog" over ; the way he arranges guitar and computer rhythmic remixes was able to capture something of moondog's spirit for this modern world, and lastly, jean jacques birgé. a bit more simplistic in approach is the ilitch track, and laurent saïet also did a mix in a modern style. then we have a few recordings which hardly have any association with moondog. hervé zénouda is post-minimalism could recall the fact that moondog had just a few rather minimalist pieces, but with a title like "a man on the moon" it is clear how little this has any reference to the original spirit of moondog.
even when the compilation is not a completely successful tribute to moondog in all degrees, much of the music on its own, with varied interests, can be interesting to hear. also for the real moondog fan there will be some very nice surprises. a more consistent compilation into one style, like for instance folktronica, or classical could have been a little bit more satisfying to use for repeated listens.
http://psychevanhetfolk.homestead.com