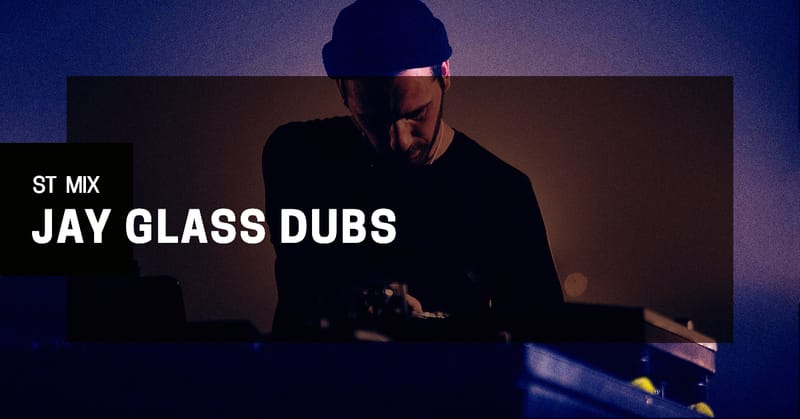 Jay Glass Dubs – Secret Thirteen Mix (link)
The mix from Dimitris Papadatos (aka Jay Glass Dubs) for the Secret Thirteen Mix series reimagines dubforms through an abstract, futuristic, new-age ambient approach. Inlcudes tracks from David Fenech + Jac Berrocal, Krzysztof Komeda, etc.
Tracklisting :
01. Carmen Villain – Only Decades
02. Georgia – V_W_S
03. Polido – Gasp feat. Meta Hirschl
04. Haddon – Anabiosis
05. Celestial Trax – Into The Night
06. Ben Vince – A Little Respite
07. Laurent Jongbeys – Aksak Samai Dans La Velee De l' Ourthe
08. FlökosH – Hive Mind Surfing
09. Greeen Linez – Malvinia
10. Ssaliva – b
11. Monk & Canatella – Apology
12. Jay Glass Dubs – Untitled
13. +ime 94 – Lay Down
14. Seekersinternational – Undercover Lovers
15. Jac Berrocal, David Fenech – Zilveli
16. Krzysztof Komeda – What Have You Done To Its Eyes
Jay Glass Dubs is the brainchild of Dimitris Papadatos, a Greek producer with a modern and unique approach to dub music. Dimitris takes the basic form of dub in order to convey moods not always associated with the genre. In his hands, these sounds are weaved into atmospheric and cinematic tapestries with dynamics that are sometimes closer to ambient music. Dimitris covers the core pulsations with layers of soundscapes, guitar washes, vocal echoes. The recent compilation released on Not Waving's Ecstatic label is an elaborate illustration of the diversity of his modus operandi. Slow-paced rhythmic structures form an almost hypnotic effect with sounds ranging from drifting minimalism to dreamy levitations or urban melancholia not dissimilar to the more trippy moments of HTRK. Jay Glass Dubs' output for Bokeh Versions is more upbeat, but also almost never loses its atmospheric grip, which is a signature element of Dimitris' sound. It is as if he plays dub music influenced by goth/minimal/ambient music. Apart from JGD, Dimitris also engages in some more leftfield sonic experiments under The Hydra, and undertakes a more song-driven, acoustic yet minimal approach in his Ku project.
Secret Thirteen Mix 248 by Jay Glass Dubs is difficult to research – the tracks gathered could only have been found by someone digging deep and often. This is prototype music, mostly self-released or borderline-self-released, and hand-picked from the branches of the mighty tree of dubforms. Dimitris revisits dub, trip hop and even the endlessly maligned genre of dubstep, which is presented here in its best psychotic-rave-meets-low-beats garment. Much of the mix has a crystalline, somewhat new-agey quality, perhaps most outrageously exhibited in Greeen Linez' Malvinia. Among all these contemporary pearls there are also a few very relevant glances backwards, such as with Monk & Canatella's track released in the heyday of trip-hop (which must have sounded quite a bit weird at the time), Jac Berrocal, David Fenech Zilveli, or the following excerpt from Krzysztof Komeda's Rosemary's Baby OST to end the mix with a darker, ritualistic vibe. An echoey, feverish forthcoming Jay Glass Dubs track is in line with this feel as well. Dimitris' mix reminds of Peter Alexander's sculpture, Cloud Box, which captures the airiness of this compilation or how it reimagines familiar forms without attaching an alienating, uncanny valley feel.