COMING SOON ON JELODANTI 
jan 20 2024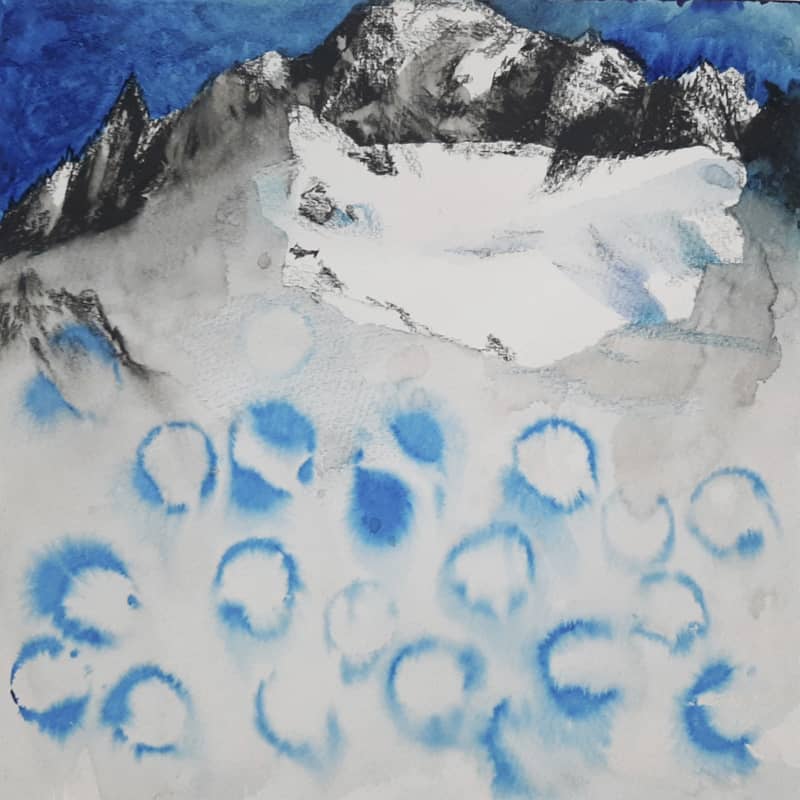 David Fenech – Mountains of night
Jelodanti is happy to present Mountains Of Night, David Fenech's third solo album, following Grand Huit (2000) and Polochon Battle (2007). Somewhere between musique concrète and pop, between sound poetry and industrial music, this new recording has been constructed as a musical piece that develops over time, forming a truly unique listening experience. Lasting 40 minutes, it is split into two movements, forming two well balanced sides on a vinyl record. Don't miss it if you are into Jim O'Rourke, Mimir, H.N.A.S, Nurse with wound or Faust.
The composer himself considers this album to be his most personal to date, and the first in his discography that clearly echoes his personal life. Mountains of night" is an evocation of his lost childhood, with its troubles, traumas and search for a peaceful place. It slowly moves from a disturbed atmosphere to a more peaceful and harmonious one. A quest for paradise. The title was inspired by David's son who said to him one day, as evening fell over the Alps near Grenoble… "Look! The mountains are full of night!" Like the frightening side of something beautiful, like a perfect blend of innocence and darkness.
We have the great privilege of offering you this album in "Art Edition" format, with a limited series of unique handmade covers by the famous French artist Muriel Rodolosse. Each artwork is distinct and different from the others, adding a perfect visual counterpoint to the music. These magnificent covers bring a little of their strange beauty and ever changing variety. Don't miss the chance to have your pick!
Instruments : piano, electric guitar, percussion, snare drum, voice, electric bass, organ, sequencer, tape edits, field recordings, home made electronics, gamelan, sampler, flutes, shaker, bells, midi guitar, synthesizer.
Duration : 42 minutes
Tracklisting :
1. Blackburn (3'38")
2. Dome (12'49")
3. Alecto (4'36")
4. Mountains of night (16'29")
5. Rocheuse (4'46")
Recorded and mixed by David Fenech at Studio du Chantier
Mastered by James Plotkin
Paintings by Muriel Rodolosse / Cover design by Jelodanti
"Regarde ! Les montagnes sont pleines de nuit !", les mots du fils deviennent le nom du troisième disque * du père. Mon esprit tordu y a de suite trouvé un espace de bien-être. Dans ce nouvel LP sorti chez Jelodanti** David FENECH y laisse sentir sa nostalgie, son goût pour l'aventure et sa curiosité naturelle pour les musiques avant-gardistes. Dès l'intro, c'est Jim O'Rourke qui m'est venu en tête. Surtout dans la tessiture du son, se jouant de la nature et de l'expérimentation. On a ici affaire à une multitude de scénettes, de courts enregistrements de moments de vie, déclinaison de photos, de cut-up, de bruits extérieurs qui donnent le change à de plus longs espaces dans l'autre moitié du disque. Musique concrète, temps calme et des choses plus tourmentées (capharnaüm dans la basse-cour , chatons tout mielleux, etc…). Le rendu est très cinématographique. Les éléments s'étoffent, les plages s'allongent, on pourra aussi parfois penser à du WYATT dans ces chants délicats loin des coqs vociférants aux voix musclées de catadioptres envahissants. J'ai aussi beaucoup pensé à ces musiciens talentueux du genre KLIMPEREI / Pierre BASTIEN qui s'amusent avec tous leurs instruments bricolés qui aiment brouiller les pistes, de la pop éclopée à l'indus avant gardiste d'un NURSE WITH WOUND. Les influences sont multiples, vraiment, j'y entends Andy MOOR lorsqu'il joue avec Yannis KYRIAKIDES, du Morton FELDMAN sur le piano pesant. Oui, l'expérimentation est au cœur de sa pratique, allez juste parcourir le blog de David FENECH (cf ci dessous) et ses nombreuses découvertes pour vous en rendre compte. La guitare est toujours présente, elle berce le disque, c'est un moment de vie proposé, plutôt en mode calme et très réfléchi, les scènes apparaissent puis disparaissent, moi je m'y suis bien emmitouflé et je regarde rêveur passer le temps les yeux dans les étoiles et sentir la ville inquiète s'écorcher les lèvres dans des brouillards tordus et inquiétants.
Valery John Klebar – STNT (link)