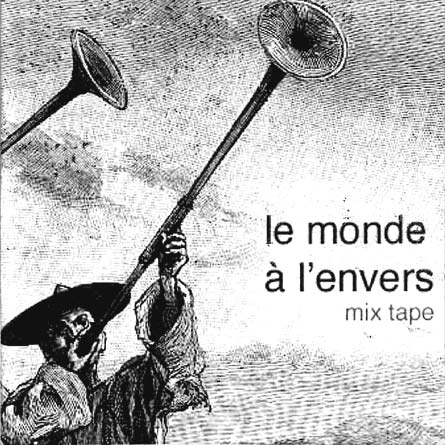 Le Monde à l'envers
release date : 2004
mixtape for La Blogotheque
david fenech was asked to compile a mixtape for La Blogotheque. he chose to make a virtual trip around the world. from Pekin to Jerusalem via Tokyo and Hawaii.
Original liner notes
1. Juliet Quinn – Pekin avec Melodica
CHINE / JAPON : Juliet Quinn est francais , vit actuellement au Japon et se balade autour du monde avec son microphone. Ici on entend les enfants de Pekin et son petit melodica dessus. Il s'agit de la version courte, inedite. La version longue est sur son mini cd "electro cut up mon cul" (univers international, 2004)
2. Adaneh Teka – Bob Marley
ETHIOPIE / JAMAIQUE : Adaneh Teka reprend Bob Marley librement (3 little birds)… et en profite pour plaisanter sur le lien entre la Jamaique et l'Ethiopie (le retour du rastafarai au bercail). Explosive liste de stars occidentales, sur fond de violon. Extrait du cd "Ethiopiques volume 2 : Tetchawet" (Buda Musique, 1998)
3. Fred Frith – Portrait I / Tam tam in Timia
MAROC / ANGLETERRE : Fred Frith, eternel voyageur, mixe sa guitare electrique avec les transes marocaines. Le resultat est un paysage sonore unique… et c'est vraiment du Fred Frith. extrait de la B.O du film "Middle of the moment" (RecRec, 1995)
4. Margaret Leng Tan – Sweet chinoiserie
CHINE / NEW YORK : Guy Klucevsek a compose cette piece pour piano jouet et acordeon avec Margaret Leng Tan. Cette musique est comme une douceur de printemps. extrait de "The Art of the Toy Piano" (Point Music, 1997)
5. Ornette Coleman – Midnight sunrise
MAROC : Rencontre d'Ornette Coleman avec les musiciens de Jajouka. J'ai assiste a l'un de leurs concerts au theatre antique de Vienne et c'etait la bataille d'Hernani dans le public. Les amateurs de Jazz consensuel sifflaient et hurlaient : les autres applaudissaient en vibrant au son de cette apocalypse sonore. Extrait de "Dancing in your head" (Polygram, 1976)
6. Jad & Nao – Do you like America ?
JAPON / AMERICA : Jad Fair est un immense poete. Associe a Nao (alias Yximaloo) ils ont enregistre Half Robot (reference amusante a l'ancien groupe de Jad – Half Japanese). "Do you like America ? Do you like United States ?" la question se pose en effet. Extrait de "Half robot" (Paperhouse,1993)
7. Screamin' Jay Hawkins – Hong Kong
USA / HONG KONG : Screaming Jay Hawkins ne sait visiblement pas parler dans cette langue… mais il essaie. Cris surrealistes. Extrait de "Cow Fingers & Mosquito Pie" (Sony, 1991)
8. Maher Shalal Hash Baz – Tokyo Okinawa Scotland
ECOSSE / JAPON : Ce groupe enigmatique (des japonais vivant en Ecosse) fait partie de mon TOP 10 pour cette annee. Ils font une musique variee, fragile, subtile. Internationale de surcroit.
Extrait de "Blues du Jour" (Domino, 2004)
9. Juliet Quinn – Pekin sans Melodica
CHINE / JAPON : specialement pour cette compile, une prise de son inedite de Juliet Quinn. On y entend du telephone portable vers la fin… la chine c'est ca aussi (inedit, 2004)
10. The Residents – Constantinople
SAN FRANCISCO / TURQUIE : Pour ceux qui ne connaissent pas les Residents, c'est un groupe americain (san francisco) eternellement dissimule derriere des grand masques. Donc personne ne sait qui ils sont. A part eux, bien sur. Extrait de "Duck Stab" (East Side Digital,1978)
11. Lemon Kittens – These Men Of Old England
(VIEILLE) ANGLETERRE : Les Lemon Kittens etaient le duo de Karl Blake et Danielle Dax. Ils n'ont sorti que deux disques, puis plus rien.. C'etait bruyant mais terriblement actuel. "These Men Of Old England" est le demontage de cliches sur la vieille angleterre. Extrait de "We buy a hammer for daddy" (Biter Of Thorpe,1980)
12. Asha Bhosle – Dum Maro Dum
INDE / BOLLYWOOD : Funky music indienne. On y entend des rythmiques de guitare en cocottes et des "Hare Krishna Hare Rama". Festif ! Extrait de "Bollywood Funk" (Outcaste,2000)
13. Michael Snow – Si nopo da
CANADA / NIGER : Sur les notes de la pochette du LAST LP, on croit avoir affaire a une vaste entreprise d'ethnomusicologie. Ne vous meprenez pas, ce ne sont pas des chants du Niger… mais bien Michael Snow lui meme qui fait ces vocalises. L'auteur fait le parallele entre la disparition de certaines cultures et la fin du support vinyle.. c'est surtout une enorme farce, jusqu'au bout. sinopoda ! Extrait de "The Last LP" (Art Metropole,1987)
14. Robert Wyatt – Lullaby For Hamza
IRAK / ANGLETERRE : Je ne peux pas concevoir de mixtape sans morceau de Robert Wyatt. Cette chanson parle d'une petite fille pendant les bombardements en Irak. Le sujet est grave, mais la voix est aerienne. Il se degage alors une impression de glissement sonore, typique de cet immense artiste. On en redemande ! Extrait de "cuckooland" (Ryko,2003)
15. Le Zagazougou – Saya
COTE D'IVOIRE : L'accordeon etait un instrument tres populaire en Afrique… il revient dans des groupes comme le Zagazougou, associe a des djembes. Tres melodiques, leurs compositions sont des petites joyaux. Extrait de "zagazougou coup" (piranha,1996)
16. Drain – Wendy will win
JAVA / USA : King Coffey, le batteur du groupe americain Butthole Surfers a sorti ce disque inclassable, CD ideal pour ceux qui n'aiment pas la techno. Avec des sons de gamelan, des rythmiques efficaces et des structures evolutives, ce CD a tourne en boucle et prefigure une forme de techno actuelle moins synthetique (comme Four Tet, Mouse on mars, etc). Extrait de "Offspeed and in there" (Trance Syndicate,1996)
17. Ghedalia Tazartes – Il cazzo di Leone
FRANCE / ITALIE : Un inedit du grand Ghedalia Tazartes, qui parle couramment italien. On retrouve sa tchatche libre et inventive avec un plaisir communicatif. Si vous aimez, achetez son CD sur mon label, Demosaurus. he he he…
18. Joseph Racaille – Vieille Hawai
FRANCE / HAWAI : Faussement naives, les petites chansons de Jospeh Racaille sont encore trop peu connues du grand public. Son split vinyle "Les flots bleus" avec Portella est parmis les plus beaux disques de chanson francaise de tous les temps… et il n'a jamais ete reedite en CD ! Deja a l'epoque il parlait de sa passion pour la vieille hawawawawawaiiiii. Extrait de "Les flots Bleus" (Recommended Records,1983)
19. David Fenech – Prambanan
FRANCE / INDONESIE : Une guitare accordee sur la gamme balinaise (comme un gamelan). Et une fausse improvisation, retravaillee au computer. Un inedit exclusif de votre serviteur enregistre en 2003 a la maison. C'est moi qui l'ai fait !
20. Mark Hollis – A new Jerusalem
JERUSALEM : Mark Hollis sort trop peu de disques depuis la fin de Talk Talk. Mais comment succeder au chef d'oeuvre que represente "The Laughing Stock" ? par un autre chef d'oeuvre me repondrez vous. "A new Jerusalem" est la conclusion de ce tour du monde sonore. Extrait de "Mark Hollis" (Polygram,1998)