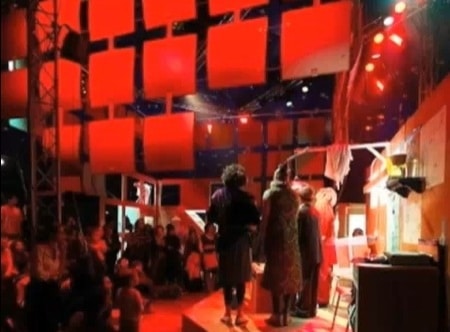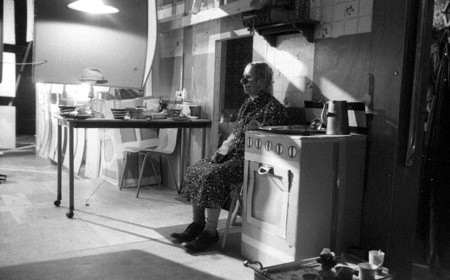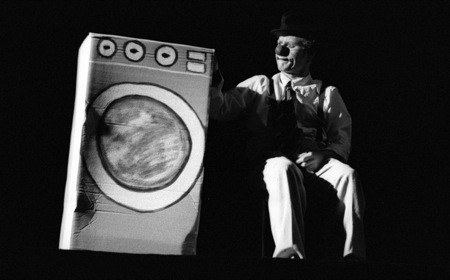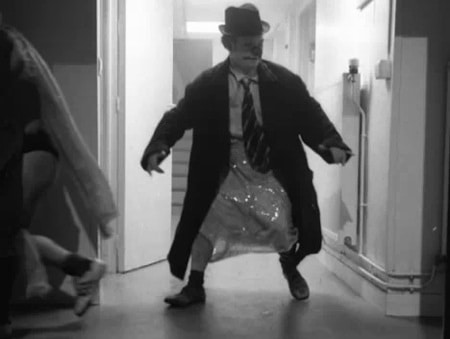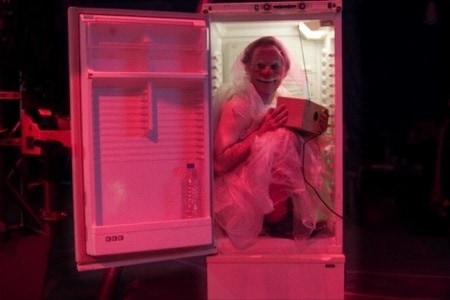 la maison des clowns (website)
release date : 2007
music for theater
play by giovanna d'ettorre
la maison des clowns is a company run by giovanna d'ettorre. the idea of the show is to experience the house living of clowns. (what are clowns doing when they are back at home ?). david fenech composed the music for the stage.
giovanna d'ettorre trained at the theatre school of the c.n.a.c in chalons-en-champagne, then worked in various fields – circus, theatre, cabaret, as a clown, an actor and a director. she has explored and mixed different forms of performing arts with cie turbulence, cirque plume, théatre des lucioles, alfredo arias, hervé pierre, daniel lemahieu, le clown chocolat at the cirque du tonnerre in montreal, cirque du soleil, christophe huysman, etc. in parallel, she directed several shows and got involved in the activities of the fraco (clown and comedian training) in lyon. in 2007, she founded "la maison des clowns" and participated in the direction of the new rhul casino extravaganza in nice.
direction : giovanna d'ettorre
scenography : didier goury
lights : laurent queyrut
music : david fenech
actors : : frederic blin , ludor citrik , karl heinz lorenzen ,harry holtzman, nicolas peper
C'est un projet ambitieux qu'a échafaudé la metteuse en scène Giovanna D'Ettore : réunir cinq artistes reconnus, cinq égoïstes du rire, dans une cohabitation forcée, afin d'éclairer de bien troublantes questions. C'est quoi la vie des clowns ? Que mangent-ils ? Où habitent-ils ? Ont-ils des voisins ? A quoi ressemble un enterrement de clown ? Ces cinq-là sont donc colocataires. Ils partagent avec un vieux chien fatigué un hangar en contreplaqué et en carton, moins Loft story qu'asile de clowns. Une maison « Pirouette cacahuète » (imaginée par le scénographe Goury), pleine d'estrades gigognes, de placards bancals et de portes qui claquent sur le faux nez du copain. Les clowns ne sont pas comme nous, ils ne s'embarrassent pas de politesses. Ils se font peur, se font mal, se battent comme des chiffonniers. Et surtout, ils ne voient pas le public qui déambule librement parmi eux, de la cuisine au coin salon. Dans cette famille foncièrement déloyale, on s'attache vite au grand méchant (Cédric Paga alias Ludor Citrik) et au dragueur mégalomane (Mister Kreg, Harry Holtzman). « Et toi, t'es qui ? » demande le plus malchanceux des cinq. « Ton pire cauchemar ! » répond l'autre, perché sur le toit des cabinets, tout en molestant le public à coups de vieux jouets (toujours Ludor Citrik). Si ce garçon ne crève pas la scène, l'écran, le chapiteau dans l'année, on veut bien manger son chapeau… On nous dit que ce spectacle-Lego, construit en quatre modules de quarante minutes chacun, reste trop lourd à monter. Et pourtant, ne pas diffuser cette petite merveille de méchanceté, portée sur les fonts baptismaux par quelques bonnes fées (le Théâtre du Chaudron, le Théâtre Firmin-Gémier d'Antony, La Brèche à Cherbourg), serait tout simplement impardonnable… Rompue aux arts de la piste, drôlesse raffinée, Giovanna D'Ettore, elle-même formée à l'Ecole de théâtre de Bo­logne et au Cnac de Châlons-en-Cham­pagne, pratique une saine philosophie. Le forçat du rire, ce pelé, ce galeux, dans notre société de l'épate, est forcément celui qu'on ne veut pas voir. L'enfer, c'est les clowns.
Mathieu Braunstein – Telerama n° 3027 (link)