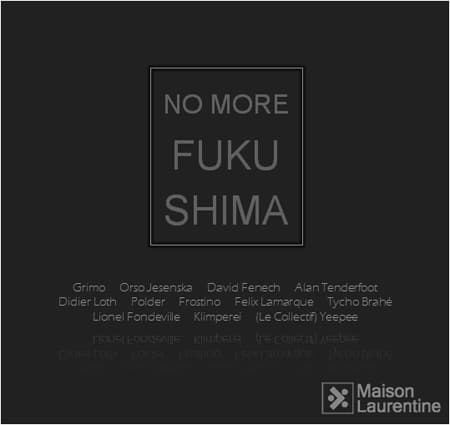 No More Fuskushima
release date : 2013
format : streaming (link)
The No More Fukushima project compiles music from 12 musicians two years after the tragic event. more details to come soon.
with David Fenech, Klimperei, Frostino, Grimo, Orso Jesenska, Polder, Yeepee, Tycho Brahé, Alan Tenderfoot, Didier Loth, Lionel Fondeville, Felix Lamarque, Sam Nolin.
Tracklisting :
01. Grimo – Ecocide Blues
02. Orso Jesenska – Entre 2 et 3 minutes
03. David Fenech – Four for Fukushima
04. Alan Tenderfoot: guitar – march11
05. Hideor Tild – Tsunami
06. Polder – (Japan)
07. Frostino – Lullushima
08. Felix Lamarque – NMF#
09. Tycho Brahé – Nuclear Landscape
10. Lionel Fondeville – Wall of Sondes
11. Klimperei – FKSHM
12. Sam Nolin – Portrait of Fukushima in Four Colours
13. Yeepee – The Forest and the Ocean