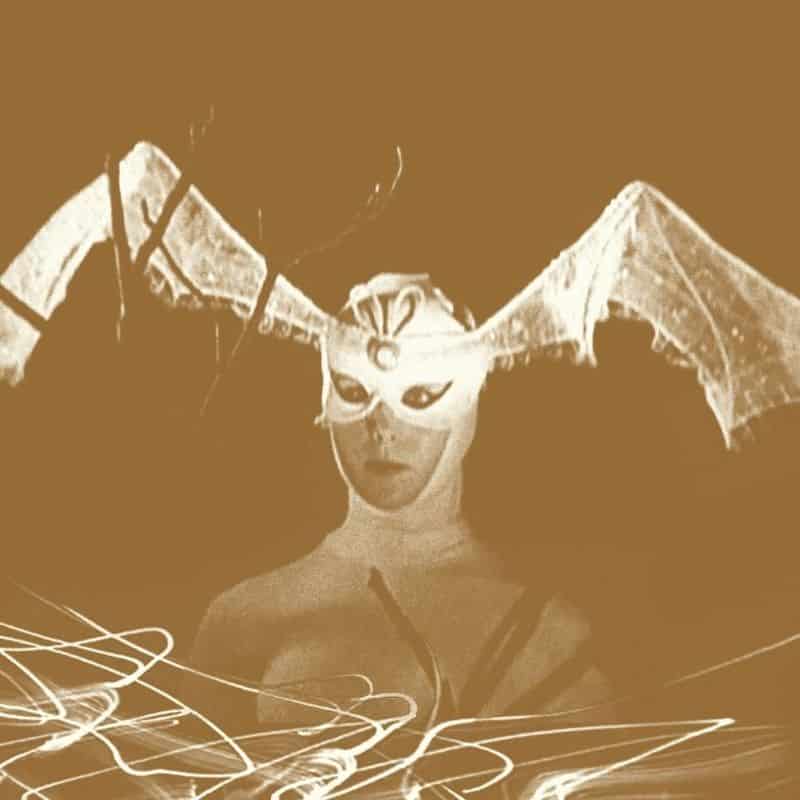 Jac Berrocal + David Fenech + Vincent Epplay – WHY
Release Date : April 2017
Label : Blackest Ever Black
Tracklist :
A1. Why (3:58)
B1. Ice Exposure (3:10)
B2. Alienor en Aout (1:10)
Recorded and mixed in Paris, Montreuil 2013-16 by David Fenech and Vincent Epplay
Jac Berrocal – trumpet, voice, organ, lyrics
David Fenech – electric guitar, drum loop, edits
Vincent Epplay – synthesizers, percussions, edits
Frieda Grünberg – voice on B2.
A1 recorded by Thibaut Javoy, Paris.
B1 recorded by David Fenech at Halle aux Cuirs, Paris.
Cover image by Vincent Epplay
7″ mastered and cut by Noel Summerville, pressed at Optimal and housed in printed sleeve. Edition of 300.
Jac Berrocal, David Fenech and Vincent Epplay return to Blackest Ever Black with their first record since 2015's Antigravity LP.  Why brings three singular but complementary pieces together on one 7″. The title track is a louche but volatile art-rock panther-stalk…a cracked jazz ode on street hassle pitched somewhere between Vince Taylor-in-exile and PiL's Metal Box…Berrocal on vocals, a rakish, slurring stream-of-consciousness that becomes a yowl of despair; drums loose and dub-delayed; Fenech's jagged guitar phrasing set to stun, and Epplay's electronics set to flay. 'Ice Exposure' situates Bef's mournful, muted trumpet in the sort of eerie deep-freeze ambience that characterised Antigravity, and 'Alienor en Aout' coaxes a gloomy poetry from affectless cold war radio broadcasts.
Why are we so strange tonight?
Limited pressing (300 copies) with artwork by Vincent Epplay, available to pre-order now for April 28 release.
Jac Berrocal, David Fenech and Vincent Epplay's wild and unusual trio have three new pieces for you to gaze curiously at. Why is a burst of woozy-weird art-rock built out of flaring electronics, lurching rhythms and Berrocal's wildman vocals. Intriguing 7" single, limited to just 300 copies on Blackest Ever Black.
Norman Records (link)
When three experimental artists get together to make some music, the result is bound to be interesting. And so we have the Why 7″ from Jac Berrocal, David Fenech and Vincent Epplay, out later this month on Blackest Ever Black. Think of it as slam poetry as performed by a free form jazz trio playing under the guise of no wave band in some seedy club in New York in the late 70s.
Heaven is an incubator (link)
Ces jours-ci sort un excellent single sur Blackest Ever Black. On a l'impression d'une réactualisation de "Rock'n Roll Station". Jac est en pleine forme. On songe à Public Image Limited !
Philippe Robert – Avril 2017
Jac Berrocal, David Fenech y Vincent Epplay se volvieron a juntar para publicar un pequeño EP de 7″ con Blackest Ever Black, el cual está compuesto por 3 piezas que siguen dejando al descubierto el pasional sentimentalismo con el que trabajan estos tres tipos, sin mencionar que la palpable oscuridad que existen en ellas proyecta a la perfección la elegancia del sello. Escuchen
My Blog Cliche (link)
Left-Field Jazz x Art Rock: Oh Boy. Ein wunderbares Blackest Ever Black Release (soon to come), das sich intensiv im Rendezvous zwischen expressionistischer (Free) Jazz Dystopie, Drumplay im Dub-Verzug und gitarren-induzierten Endorphinen bewegt. Nachtmusik. Oder ein Otto Dix Bildnis vertont? Jac Berrocal, seines Zeichens Trompeter, das Licht der Welt erblickt im Jahre 1946, hatte in der Vergangenheit u.a. mit Nurse With Wound musiziert. Hier kollaboriert er wieder im Trio mit den französischen Ebenfalls-Avantgardisten, David Fenech (Gitarre) und Vincent Epplay (Electronics) und liefert auch die prägnanten Vocals mit eigenwilliger Punk-Dynamik. Manchmal gibt es keine Antwort auf die "Why" Frage. Why are we so strange tonight?
RRR Soundz – march 2017 (link)
Le Berro nouveau avec David F et Vincent Epplay est tout aussi effrayant que maximaliste, même si au format 45tours simple chez Blackest Ever Black Records.
Philippe Conan – l'azile le plus sûr (link)
By turns bolshy and bashful statements of dub punk and smeared jazz from the time-served post-punk heroes for Blackest Ever Black
Boomkat (link)
It's certainly been a busy couple of weeks for Blackest Ever Black with label head Kiran Sande opening up the very promising Low Company record store in East London at the weekend, and here we have the label's latest offering in the form of this delightfully odd 7". Given the format and its 3 short tracks you'd be forgiven for not anticipating the breadth of sonic territory covered within, as the trio of Berrocal, Fenech and Epplay dizzily cycle genre, texture and technique on each cut. One for the aural oddities collection.
The Vinyl Factory – 10 Best New Records of the week (link)
Mit Creme de Hassan hatte sich mein Kollege Kristoffer ja schon die Sultanine dieser Woche gepickt. Der erste in der Reihe der Trostpreise geht dann an diese 7″ aus dem Hause Blackest Ever Black. Was zunächst klingt, als hätten sie bei Dark Entries wieder eine 40 Jahre alte Entdeckung getätigt, bei der John Lydon auf Bruce Gilberts freidrehender Musik seine Stimme erhebt, stellt sich in der Beschäftigung als absolut gegenwärtig heraus. Jac Berrocal und David Fenech und Vincent Epplay haben auf »Why« so drei Stücke ersonnen, die aus der Zeit gefallen sind und auch wenig Bezugspunkte untereinander zulassen.
HHV Mag (link)
Your 7″ sounds fabulous !
Felix Kubin (via email)