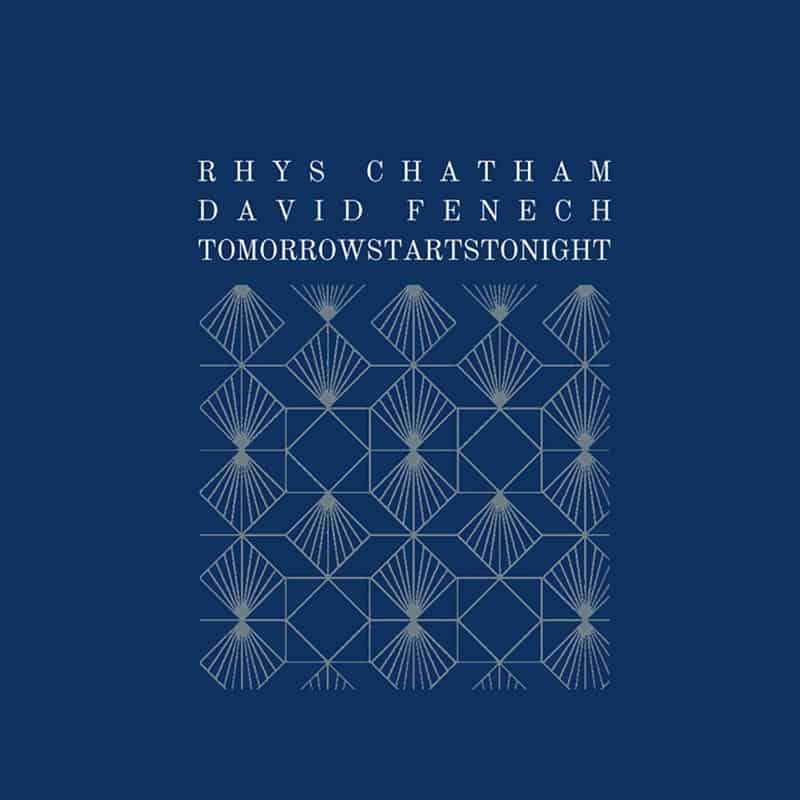 Rhys Chatham + David Fenech – Tomorrowstartstonight
Label : KlangGalerie (gg435)
Format : CD
Tracklisting :
01. In search of tomorrow
02. Tomorrow together
03. Tomorrow starts tonight
1 and 2 recorded and mixed in Paris in 2022
3 recorded by Jan Bruckschwaiger at Replugged, Vienna (May 12 2022)
Mastered by James Plotkin
Thanks Walter and Lisa Robotka, Tea Soza, Pascal Regis
The first duet album by Rhys Chatham and David Fenech, two well-known musicians of the experimental scene. It is a long piece of music in a minimalist spirit, where the two guitarists meet and merge with Rhys' trumpets, flutes and vocals and David's small percussion.This record has an organic feel and natural development that makes it unique. Tomorrow starts tonight !
Rhys Chatham is best known for his compositions for electric guitar orchestra… he began his musical career as a harpsichord tuner, studied flute with Sue Ann Kahn, studied shortly thereafter with electronic music pioneer Morton Subotnick and later with La Monte Young (also as a member of his famous "Theatre of Eternal Music" ensemble). He also played with Tony Conrad in an early version of his band The Dream Syndicate. In 1971, while still a teenager, Chatham became the first musical director of the famous venue The Kitchen in New York. He has played and recorded with musicians as varied as Charlemagne Palestine, Sonic Youth, Arthur Russell, Jonathan Kane (Swans), George Lewis, Band of Susans, David Toop, and in his large guitar ensembles with members of Tortoise, Godspeed You! Black Emperor, Hüsker Dü…
David Fenech is a French musician living in Paris, guitarist, singer, improviser. He plays a wide variety of instruments and is an accomplished guitarist with his own technique… but his main instrument may well be the microphone, his music being composed of whatever he records with it. His distinctive, slightly baroque style, on the bangs of rock, jazz and improvised music, has often been described as "a kind of musique concrète punk". He has performed and recorded with musicians as diverse as Felix Kubin, Tom Cora, Pierre Bastien, Jac Berrocal, Ghédalia Tazartès, Nurse With Wound…
Despite being around for various decades, there has not been a review of his work in Vital Weekly. His name pops up, mainly to say that he is the inspiration for one or the collaborator of another, but never a review of his music. Chatham is a minimalist composer, working primarily with the guitar. He also studied the flute and played with Tony Conrad, Charlemagne Palestine, Sonic Youth, and Arthur Russell, and sometimes with large guitar ensembles. Music by David Fenech made it to these pages; his work with Jac Berrocal and Vincent Epplay (also on Klanggalerie, see Vital Weekly 1367 and 1227) or with Laurent Perrier (Vital Weekly 1223). With him, the guitar is also the main instrument. You may conclude that if two guitarists make a record, it probably sounds like a guitar record. I can imagine this to be the case, but whatever Chatham and Fenech do on this record hardly sounds like a guitar record. There are three pieces, each around seventeen minutes, and they use a broad palette of sounds. Percussive sounds, for instance, in 'Tomorrow Together', along with sampled animal sounds, hiss-like drones and whatever else they sampled. This piece has a rather loose structure, giving the impression of improvisation. That's not what I thought of the first piece, 'In Search Of Tomorrow', a relatively subdued piece of meandering guitar and lots of delay pedal work, adding an excellent drift to the music. Slowly building, the piece doesn't work to a crescendo but stays atmospheric. The title piece is the last one and is, in terms of subtleness, the gentlest piece. They gently brush their strings with their hands, add sampled field recordings and have a tremendous piece of ambient. Two absolutely fantastic pieces, one that is not my liking yet one that shows the two have a broader interest and various tricks up their sleeve.
Frans de Waard – Vital Weekly , July 2023
"Very beautiful music, alienating and complex in its interactions".
Roberto Musci – August 2023
重鎮作家の豪華共演!!ハープシコードのチューナーとして音楽キャリアをスタート、その後米電子音楽のパイオニアの一人であるモートン・サボトニックやラ・モンテ・ヤングに師事、自身ではエレキギター・オーケストラを率いミニマルな作曲に挑み続けたニューヨークの重鎮Rhys Chatham。90年代初頭より活動し、自国の重鎮Jac BerrocalやGhedalia Tazartes、Pierre Bastienとの度重なる共演を重ねるコンポーザーDavid Fenechとの共同録音をリリース!!徐々に厚みを増していくトランペット、フルート、ボーカル、パーカッションの多層ミニマルを披露、Rhys Chathamのカラーに寄せた内容ながら物音の存在感が強く、そのガタゴトとした混沌具合が凄い!!
Art Into Life – August 2023 (link)
Sublime disque de David Fenech et Rhys Chatham. Trois longues plages d'ambient très subtiles, d'une grande richesse sonore et à la production parfaite. Un vrai bijou. Un disque qu'on aurait envie d'écouter le soir comme son titre le suggère mais il fonctionne aussi très bien au réveil en particulier la deuxième plage avec son chant de coq!
Cyril Lacaud – September 2023
En posant sur la platine Tomorrowstartstonight, le duo de David Fenech et Rhys Chatham, je m'attendais à une musique minimaliste, parce qu'enregistrer avec une légende comme le compositeur américain implique forcément qu'on se glisse dans ses traces, à moins d'une révolution inattendue chez celui qui dirigea des orchestres de centaines de guitaristes. À l'énoncé du nom de Chatham lui collent à la peau ceux de La Monte Young, Morton Subotnick, Tony Conrad, Robert Ashley, Philip Glass, Meredith Monk, Pauline Oliveros, Steve Reich ou Brian Eno. Du drone donc, de l'ambient, alimentée par le mouvement brownien ! Trois longs morceaux d'à peu près dix-sept minutes chacun se succèdent sans pause. In Search of Tomorrow conforte mon a priori, mais Tomorrow Together nous invite à une sorte de rituel matinal qui réveille les hôtes de la forêt. David Fenech est un autre sorcier de la guitare, un homme du son, un musicien placide qui sait méticuleusement prendre ses distances. Aux cordes électriques se superposent la trompette et la flûte de Chatham, la percussion de Fenech, et un coq, le coq… Au fur et à mesure que passe le temps l'auditeur est absorbé par une spirale qui l'emporte loin de l'endroit où il pensait se trouver. Délais et réverbération, ces effets jouent avec la durée, un temps élastique, comme du verre qu'on file à 1200° et qui devra refroidir pour que se révèle sa transparence. Lorsque la troisième partie, Tomorrow Starts Tonight, se termine, il est difficile de lui faire succéder autre chose que le silence.
L'album de Fenech et Chatham m'interroge sur la prochaine collaboration que je dois partager avec une autre légende américaine, le guitariste Thurston Moore, co-fondateur du groupe Sonic Youth. Devrais-je casser l'icône ou me fondre dans la masse ? Lorsqu'en 1999 celui-ci fit un remix de notre groupe Un Drame Musical Instantané, il réussit à nous rendre hommage sans perdre sa pâte, mais en faisant totalement autre chose que ce dont il avait l'habitude. J'ai l'âge de Chatham, six ans de plus que Thurston, dix-sept de plus que David avec qui j'ai eu le plaisir d'enregistrer l'album Chou en trio avec la pianiste Sophie Agnel il y a tout juste un an. J'avoue aimer créer des situations où mes camarades de jeu sortent de leur zone de confort. J'attends donc les propositions de Thurston avec curiosité et impatience. En attendant, je laisse couler le silence qui a succédé au beau disque de David Fenech et Rhys Chatham, comme si le moindre bruit participait à ce minimalisme absolu habité par le murmure lointain de la ville, les machines domestiques qui sommeillent et ma propre respiration.
Jean-Jacques Birgé, Mediapart – Septembre 2023 (link)