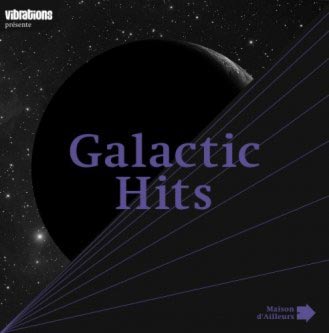 Galactic Hits
release date : 2010
label : vibrations / maison d'ailleurs
http://www.ailleurs.ch
Galactic Hits is a new CD put together to complement the music and science fiction exhibition at Maison d'Ailleurs. Compiled from an open call for submissions, the CD features a wide-range of well-known artists including synth-pop legend Jean-Jacques Perrey, noise pioneer GX Jupitter-Larsen, key figures in electronic music such as Staalplaat Soundsystem and Scanner, surf-rockers the Nematoads and a host of other auditory delights. It is produced in partnership with the magazine Vibrations. You can order a copy from Maison d'Ailleurs exclusively (8.- CHF or 6.- Euros, postage not included), along with the March 2010 edition of the magazine.
Tracklisting :
01 Pierre Bastien – Rousselliana
02 Matt Wand – Consumerworld : Isle 4
03 The Nematoads – Theme from The Inscrutables (UFO version)
04 Douglas Benford – Solid State Steam Punk
05 David Fenech – Octoservo
06 Vlantis – Interstellar Feller Man
07 Scanner – Formanville
08 Richard Pinhas – If you find this world bad…
09 Future Conditional – Oh God, What Have We Done ?
10 Reverse Engineering – Artificial Man
11 Jean-Jacques Perrey et Dana Countryman – Huckleberry Duck / The Toy Trumpet
12 Autistici – Infinity Shell
13 Peter J. Gorritz – The Launch Pad
14 Preslav Literary School – Eschatos
15 Bio – The Failure
16 Ben Richter – The Center of the World
17 Carsten Stabenow – ~/Downloads/torrents $: unrar x bladerunner.mkv. rar/Documents/Movies/
18 GX Jupitter-Larsen – Last Days On Theia
19 Thierry Besançon – Nocturne pour Theremin et Piano
20 Richard Lainhart – Lift-off