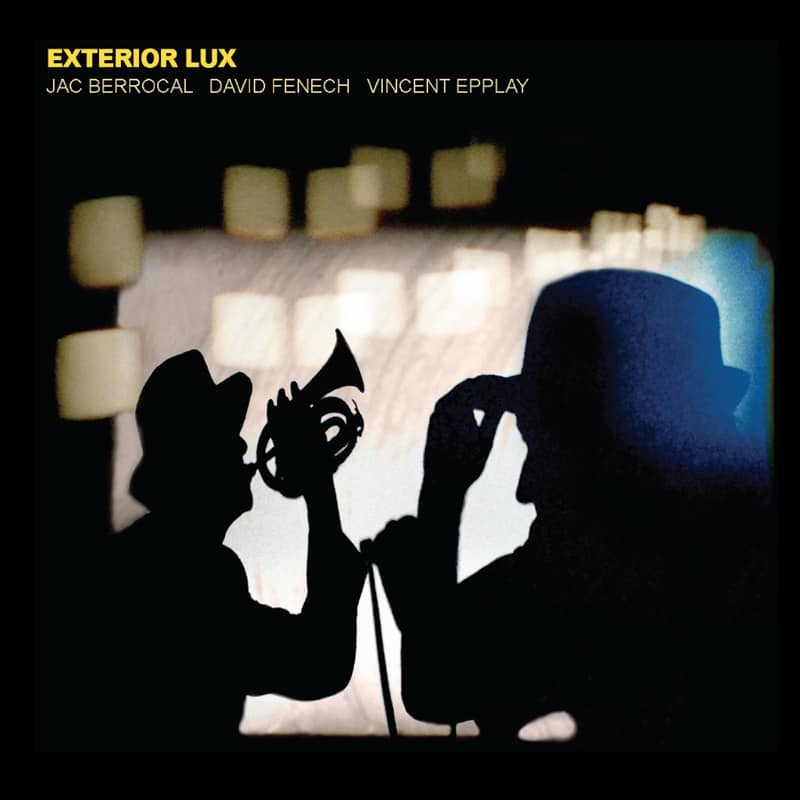 Jac Berrocal + David Fenech + Vincent Epplay – Exterior Lux
Labels : Akuphone (LP/DL), KlangGalerie (CD)
Release date : 2020
Exterior Lux is the third album from the trio Jac Berrocal + David Fenech + Vincent Epplay. Featuring Sayoko Papillon on vocals on one track and Guy Harries on flute. the song Fuis Le Feu is inspired by a song by Alan Vega. And Je me suis endormi is inspired by Jean Vasca. Mastered and cut by the legendary Noel Summerville.
Tracklisting :
01. Going Nowhere
02. Exterior Lux
03. Walkabout
04. Wakhan corridor
05. Chiroptera
06. Vetiver
07. Officer
08. Fuis Le Feu
09. Légère Dentelle
10. No Guitar Today
11. Je me suis endormi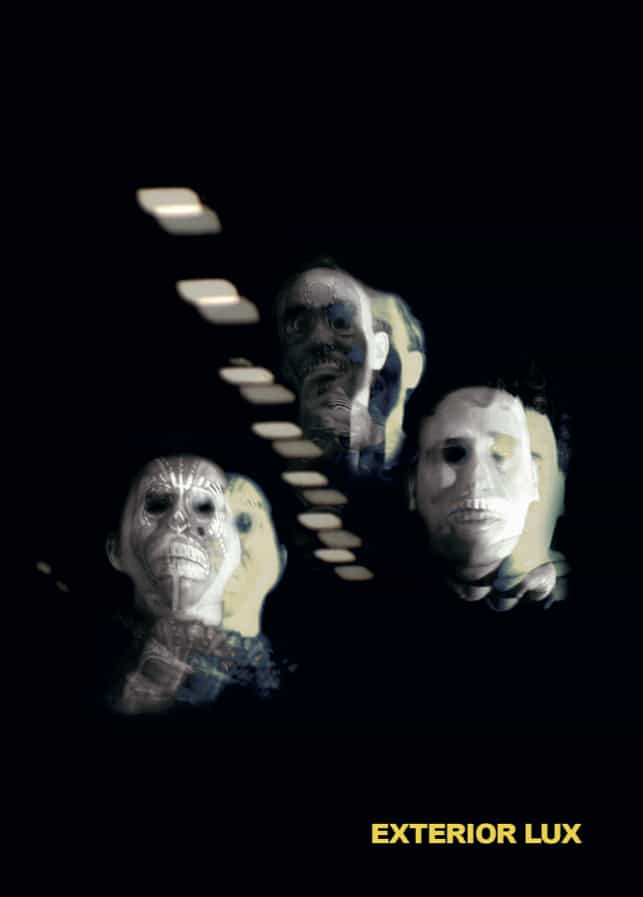 Trompettiste inclassable au CV épais comme un bottin téléphonique, co-fondateur du groupe Catalogue, il a collaboré pêle-mêle aux côtés d'artistes aussi différents Nurse With Wound, Ghédalia Tazartès, Vince Taylor, Yvette Horner, James Chance, Pascal Comelade, Michel Portal, Lizzy Mercier-Descloux… Franchissant les genres sans se poser de questions, du rock au free jazz en passant par la chanson ou l'expérimental, Jac Berrocal est un musicien qui s'aventure dans des espaces illimités, enrobés de poésie.
Aux cotés de David Fenech et Vincent Epplay, il a trouvé les partenaires idéaux, agitateurs/improvisateurs avec lesquels il peut continuer d'explorer, la musique étant un terrain de jeu hasardeux, gorgé de trésors à découvrir. Exterior Lux ne s'inscrit pas dans un genre, explosant le free jazz sur des tapis de post punk, déchirant la nuit à coups de mélodies décharnées, errant sur des lambris abîmés aux échardes pointues. Le trio s'amuse, donne le tournis, invite à la transe et au relâchement. Viscéral.
Roland Torres – SilenceAndSound, November 2020 (link)
"A lush garden where several scents combine during the day and where at night the shadows dance with the ghosts."
Dominique Grimaud about "Exterior Lux"
Recently released via the long standing imprint Klanggalerie is "Exterior Lux", the latest album by Avantgarde Jazz staple and – amongst many other achievements – collaborateur of Steve Stapleton's Nurse With Wound, Jaki Liebezeit and Pascal Comelade Jac Berrocal who is teaming up with experimental electronic sound artists David Fenech and Vincent Epplay for this eleven tracks and 38 minutes spanning exploration within the sonic realm. Opening with the distinct, stripped down and expertly produced Electronica vs. (No)Wave / Ingenious Dilletantes / Coldwave banger "Going Nowhere" we're drawn straight to the center of neon-lit concrete dancefloors populated by the most freaky amongst the creatures of the night whereas the albums title track "Exterior Lux" provides a deeply haunted Jazz Noir / Future Jazz vibe in the most abstract and electronic of all senses. The subsequent "Walkabout" gravitates towards Industrial-informed experimental NuBeat, the "Wakhan Corridor" leads to a stripped down version of haunted late night Future Jazz and "Chiroptera" dabbles with Oriental PostPunk Dub vibes in a way slightly reminiscent of groups like the infamous C Cat Trance. Following up is "Vetiver", a well hypnotic ebb and flow led by ever swelling guitars and a haunted, avantgardistic vocal performance, "Officer" introduces a minimalistic, Tribal-informed and Dub-infused variation of PostPunk once again and "Fuis Le Feu" amalgamates Spoken Word abstractions, intense DesertBlues guitar variations and a digital Dub riddim well suitable for dark'ish Illbient sets to form a fascinating sonic melange. Furthermore "Legere Dentelle" introduces brittle female vocals to the late night DarkJazz / SpunkJazz equation, "No Guitar Today" even crosses over into – ofc – Jazz-infused and slightly off-kilter DubTechno realms for highly advanced dancefloors and the final cut "Je Me Suis Endormi" waves goodbye in a spine-tingling, post-apocalyptic Spoken Word manner for those who know. Highly recommended, this.
Nitestylez , November 2020 (link)
Jac Berrocal ist ein umtriebiger Experimentalmusiker – Hauptinstrument Trompete -, der über die Jahre mit vielen Größen wie z.B. Steven Stapleton oder Jaki Liebezeit zusammengearbeitet hat. In seiner umfangreichen Diskographie stehen unzählige Alben, die er mit anderen Experimentalmusikern in Kollaborationen eingespielt hat. Für seine neueste Aufnahme hat er sich bereits zum dritten Mal mit dem Gitarristen, Bassisten und Perkussionisten David Fenech und dem Elektroniker und Schlagzeuger Vincent Epplay zusammengetan. Das Album wurde übrigens als richtige Zusammenarbeit erstellt. Soll heißen, alle haben komponiert und arrangiert und natürlich gespielt.
Das Schöne an den meisten Scheiben aus dem Umfeld von Berrocal und Fenech, ist die nahezu kongeniale Vermischung von Experiment und musikalischer Schönheit. Auf Exterior Lux geht es verhältnismäßig viel elektronisch zur Sache. Jede Menge Fieldrecordings, atmosphärische wie aufwühlende Sounds durchfluten die Musik. Auch einige pulsierende und perkussive elektronische Klänge werden benutzt. Auf diesem Untergrund, der einen schwummerigen, etwas düsteren Grundsound produziert, toben sich die Musiker dann an ihren Hauptinstrumenten aus. Wobei austoben nicht so recht passt, denn die meisten Songs sind sehr fragil und dem Post-Rock-Sound nahe aufgebaut. Berrocals Trompete sticht oft heraus in ihrem an Jon Hassell erinnernden und doch ganz eigenem Stil. Die Klänge seines Instrumentes scheinen immer aus der Ferne über die restliche Musik zu schauen und spielen sich dann langsam ins Zentrum hinein. Die Gitarrenarbeit ist zu meist auf eher rauere und zerfaserte Art und Weise zu hören, also auch durchaus dem Postrock nahe.
So sind elf Stücke mit knapp 40 Minuten traumhafter Musik zwischen Experiment und Soundscape, Postrock und Ambient entstanden, die durch ihren Aufbau in den einzelnen Songs und dem Spannungsbogen des Albums zu faszinieren wissen. Die Perkussion sorgt immer dafür, dass nicht alles nur zu Sound wird, sondern immer Songstrukturen übrigbleiben und das ein oder andere Stück, wie z.B. "Fuis le Feu", bricht den Sound mit seinem seltsamen, aber nicht zu überhörenden Rockappeal zur rechten Zeit wieder auf.
Die Krönung sind die Vocals und Sprachsamples, die sich ebenso grandios in das Gesamtkonstrukt einarbeiten. Wunderbares Teil.
Wolfgang Kabsch – Musik An Sich , November 2020 (link)
An air bending trio, those three make ! It's the trumpet playing and distinctive vocal work of 70s improvising pioneer Jac Berrocal treated to the computer processing and unorthodox percussion of David Fenech and Vincent Epplay. Both fearless sonic inventors in their own right, too, and aptly they're trapping Berrocal's voice in kind of what sounds like some sort of murky underground tunnel for that track that is called Going Nowhere.
Verity Sharp – BBC3 , Late Junction (link)
Γερόλυκος της Γαλλικής δημιουργικής σκηνής, ο τρομπετίστας και ποιητής Jac Berrocal παίζει με τους συμπατριώτες David Fenech (κιθάρα, φωνή) και Vincent Epplay (sound artist) σε ένα άνευ στιλιστικής κατηγορίας δίσκο με τίτλο "Exterior Lux", ένθα συνδυάζονται υπό συνεχή αυτοσχεδιασμό το μπι μποπ, το post- πανκ, η free, η beat ποίηση, και τα ατμοσφαιρικά αν και σκοτεινά ηλεκτρονικά. Κιθάρες, field recordings, ανορθόδοξα κρουστά και κομπιούτερ processing δημιουργούν ηχητικά υπόβαθρα όπου αυτοσχεδιάζει σε υψηλές νότες η παραμορφωμένη τρομπέτα του Berrocal σε τούτο το δυστοπικό γεμάτο σασπένς έργο.
Antonis N. Frangos – To Periodiko (link)
Come spesso accade, anche per Exterior Lux (incontro fra questi tre nomi del panorama "avanguardistico" in senso lato) scorrendo i solchi stiamo contemporaneamente aprendo una porta sul fitto universo di corrispondenze stilistiche che tanto ci piace seguire fino allo smarrimento. Il rischio, in sede di recensione, è di perdersi nei dettagli biografici piuttosto che nell'oggetto musicale in sé, con il dubbio perenne che la separazione fra le due entità sia poi impossibile da operare.
In questo caso le personalità in gioco sono importanti, per usare un eufemismo, e sono radicate in decenni di attività artistica e collaborazioni varie. La chiave di volta nominale, Jac Berrocal, è un artista multidisciplinare che nel corso della sua prolifica carriera ha spaziato dal teatro alla poesia beat, dal free jazz ad apparizioni più o meno sostanziali in alcuni dischi di Nurse With Wound (giusto per dare coordinate riconoscibili e riutilizzabili per decodificare Exterior Lux). Qui suona la tromba e, a volte, vocalizza frammenti fra la glossolalia e l'invocazione rituale, come in "Fuis Le Feu", in cui i confini fra intelligibilità e regressione squisitamente "sonora" della parola si fanno sfumati con il progredire del minutaggio.
Il carattere di Jac permea la narrazione, è inevitabile: quando appare in una delle sue forme, l'attenzione dell'ascoltatore, anche per tutta una serie di meccanismi di registrazione e post-produzione, si focalizza su di lui; sarebbe però sbagliato non sottolineare la piacevole complicità e proporzione che si instaura fra i musicisti durante i 38 minuti che compongo l'album. Non dimentichiamoci che "sintetizzatori, percussioni, effettistica varia, sampler, field recordings e voci aggiuntive", ovverosia tutto ciò che accompagna Berrocal o ne modifica il suono, sono condivisi dai due altri attori coprotagonisti, Vincent Epplay e David Fenech. Il primo è principalmente un artista visuale e compositore di colonne sonore, curatore, tra le altre cose, della copertina di Exterior Lux e dei precedenti dischi del trio (Ice Exposure del 2019 e Antigravity del 2015, entrambi su Blackest Ever Black), mentre il secondo lavora nei territori stemperati fra field recordings, tape music, improvvisazione e musique concrète.
Durante l'ascolto i rapporti dinamici, sia fra i tre, sia fra gli strumenti a loro disposizione, oscillano in maniera più o meno percettibile, influenzando il contenuto sonoro dei brani. Tutto è sempre ammantato da un senso di precarietà, nonostante l'ossatura ritmica, ricorsiva, quasi ipnotica, si ripresenti come una costante: le singole parti che compongono le tracce si sfaldano l'una nell'altra, degradate dall'uso intensivo di delay, riverberi e distorsioni. I punti di riferimento saltano rapidamente e quello che fino a poco prima poteva apparire come uno strano rituale dub, si frammenta in ticchettii ritmici stereofonici e campionamenti proto-industrial.
L'equilibrio fra gli attori porta con sé, purtroppo, anche degli aspetti negativi che si manifestano nei momenti più caotici del disco, dove l'alchimia lascia il posto a un collage tanto variopinto nella forma quanto scarno nel contenuto. Piccola nota dolente in un lavoro per il resto valido, da considerare anche come chiave d'accesso al labirinto di connessioni e rimandi a cui accennavamo prima.
Fabio Fior – The New Noise, December 2020 (link)
De free-jazz die in de jaren '60 van de vorige eeuw opkomt, beïnvloedt natuurlijk ook de trompettisten. Don Cherry, Lester Bowie en Wadada Leo Smith in Amerka, Enrico Rava, Tomasz Stanko en Axel Dörner in Europa zijn belangrijke voorlopers. Velen zouden volgen, waarvan een deel de komende dagen hier aan bod komt. Vandaag Wadada Leo Smith, die met Deerfhoof 'To Be Surrounded By Beautiful, Curious, Breathing, Laughing Flesh Is Enough' maakte, Jac Berrocal die samen met David Fenech en Vincent Epplay bij Klanggalerie 'Exterior Lux' uitbracht en tot slot Susana Santos Silva die solo het achtste deel van de MMXX serie van Matière Memoire verzorgde: 'Sometimes It's Raining A Lot'.
(…)
Jac Berrocal is een eclectisch musicus. Hij speelde mee op twee albums van Nurse With Wound, maar werkte ook samen met groten uit de alternatieve rock en jazz als: Jaki Liebezeit, Sunny Murray en Lol Coxhill. De twee mannen waar hij onlangs de Cd 'Exterior Lux' mee opnam, David Fenech en Vincent Epplay, komen allebei uit de wereld van de experimentele elektronica en dit album, de derde, biedt dan ook een perfecte mix van beiden. De nummers op dit album hebben een aantal zaken met elkaar gemeen: het hart wordt gevormd door de elektronica. Daarbij valt het ritme op, meestal slepend en onbestemd, soms wat pittiger, vaak gecombineerd met space-achtige geluiden en opvallende vocale uitingen. Dat vormt de bedding voor Berrocals spel. Zijn klank is omfloerst, waarbij zijn tonen wolken van klank vormen. Voor wie de man niet kent, zijn stijl is wel vergelijkbaar met trompettisten als Nils Petter Molvær en Arve Henriksen, die beiden ook regelmatig elektronica inzetten.
Ben Taffijn – Nieuwe Noten, December 2020 (link)
Berrocal fa parte di quel misterioso circolo di artisti un po' folli, orgogliosamente fuori schema, immancabilmente istrionici e sovente genialoidi che animano la boheme francese sin dai tempi delle avanguardie storiche del primo novecento. Il personaggio è sui generis — Steven Stapleton, uno dei più illuminati talent scout della devianza, lo notò già qualche decennio fa cooptandolo in un paio di album dei Nurse With Wound — e poco avvezzo ai compromessi, tant'è che ancor'oggi in età assai avanzata non pare aver mitigato la sua istintività da fauve espressionista prestato alla musica rock. O a quanto ne rimane, almeno a giudicare da questi brani scritti assieme a David Fenech e Vincent Epplay che seguono a brevissima distanza il brillante "Ice Exposure" pubblicato dal medesimo trio nel 2019, inclassificabili creature fra poesia sonora (Je Me Suis Endormi), elettronica rudimentale (Going Nowhere) , meccaniche alla Pierre Bastien (Chiroptera), psychobilly catatonico da maniaco a piede libero (Fuis Le Feu) improvvisato astrattismo (Vetiver) e scariche elettriche a tratti assimilabili al repertorio di David Thomas & The Two Pale Boys (Officer). Un glorioso outsider, che in questa nuova formazione ha trovato dimora stabile.
Massimiliano Busti – Blow Up Magazine N.271, December 2020 (link)