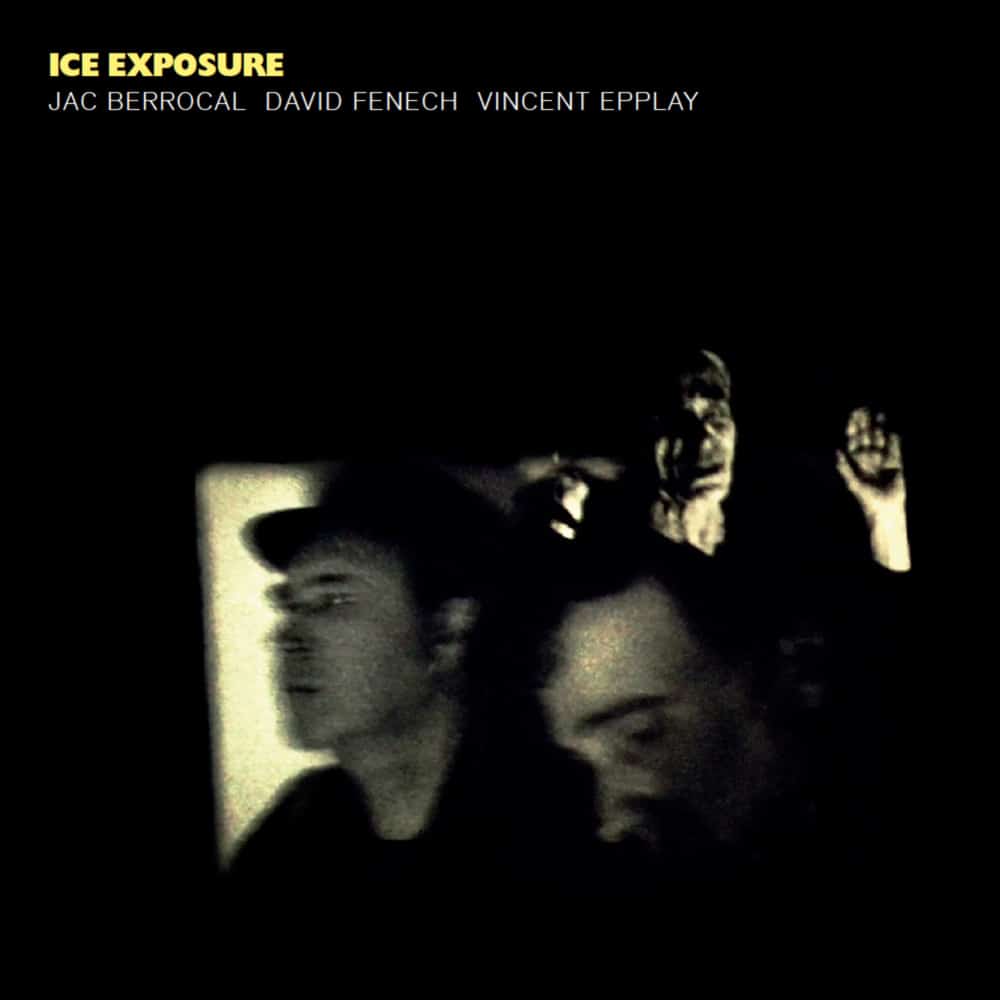 Jac Berrocal + David Fenech + Vincent Epplay – Ice Exposure
labels : blackest ever black (LP , January 18 2019), KlangGalerie (CD, February 18 2020)
Ice Exposure is the second album from the trio Jac Berrocal + David Fenech + Vincent Epplay, released on the Blackest Ever Black label. Featuring Sayoko Papillon on vocals on one track. Mastered by the legendary Noel Summerville. The CD version comes with 2 bonus tracks.
Press release from the label :
Jac Berrocal, David Fenech and Vincent Epplay return with Ice Exposure, their second album for Blackest Ever Black. A sequel and companion piece of sorts to 2015's Antigravity, its title couldn't be more apt: sonically it is both colder, and more exposed – in the sense of rawer, more volatile, more vulnerable – than its predecessor, capturing the combustible energy and barely suppressed violence of the trio's celebrated live performances with aspects of noir jazz, musique concrète, no wave art-rock, sound poetry and spectral electronics all interpenetrating in unpredictable and exhilarating ways. While there are moments of great sensitivity and even a cautious romanticism, the prevailing mood is one of anxiety, paranoia, and mounting psychodrama: close your eyes and Ice Exposure feels like a dissociative Hörspiel broadcasting from the seedy backstreets of your own troubled mind.
Before he picks up an instrument or opens his mouth, Berrocal's unique and compelling presence can be felt: a combination of studied, glacial cool and anarchic, in-the-moment intensity that has served him well over a long and storied career. It was honed during his time as a theatre and film actor, and in the 70s Paris improv scene, it powered his influential Catalogue group in the 1970s, numerous seminal, sui generis solo sides, and far-sighted collaborations with the likes of Nurse With Wound, Lol Coxhill, Pascal Comelade and James Chance which have seen him come to be valorised by two generations of avant-garde agitators and eccentrics. Now in his eighth decade, it comes with an added gravitas, perhaps, but no less energy or vitality. On Ice Exposure, his lyrical, instantly recognisable trumpet playing is a key feature – see especially the ghostly, dubwise take on Ornette's 'Lonely Woman', the dissolute exotica of 'Salta Girls', and the sublime echo-chamber soliloquy 'Opportunity'. But more often it's his voice that commands centre-stage, whether casually discharging surreal poetic monologues or moaning in animal despair – a vocal tour de force that transcends language and culminates in the Dionysian frenzy of 'Why', Berrocal's half-spoken, half-howled exclamations jostling with David Fenech's slashes of dissonant guitar, over Badalamenti-ish, panther-stalk drums.
Fenech's origins are in the mail-art scene of the early '90s, when he led the Peu Importe collective in Grenoble, and since then, in addition to his own recordings he has worked as a software developer at IRCAM and played with Jad Fair, Rhys Chatham and many others. Together with Vincent Epplay he is responsible for Ice Exposure's inspired arrangements and vivid, vertiginous sound design. Epplay is a visual artist and composer with particular interest in aleatory composition, concrete, and the reappropriation of vintage sound and film material. He and Fenech fashion a remarkable mise-en-scene for Berrocal to inhabit, one that embraces cutting-edge electronics while also paying homage to the best traditions of outlaw jazz and libidinous rock'n'roll ('Soundcheck' invokes the brutish spirit of Berrocal's hero Vince 'Rock N Roll Station' Taylor). On 'Blanche de Blanc', Berrocal's voice is framed by a groaning, ghoulish orchestra of industrial drones, while 'Equivoque' evokes the most humid and hostile Fourth World landscapes and 'Panic In Surabaya' lives up to its name, a hectic, pulse-quickening concrète collage that leaves you gasping for air.
This is a searching and singular trio operating at the absolute peak of their powers, with an interplay that transcends studio and stage and occurs at an almost telepathic level. Ice Exposure is a triumph of that group mind, an underworld dérive as life-affirming as it is unnerving and psychologically precarious.
01 – Opportunity
David Fenech : Electric guitar
Jac Berrocal : Trumpet
Vincent Epplay : Percussions, Persephone synthesizer
02 – Car Havana Midi
David Fenech : Electric guitars
Jac Berrocal : Voice, Trumpet, Lyrics
Vincent Epplay : Synthi AKS, EMS sequencer, Spring box, Drums
03 – Equivoque
David Fenech : Sequenced percussions, Electric guitar, Background voice
Jac Berrocal : Voice, Trumpet, Lyrics
Vincent Epplay : Synthi AKS, Percussions
04 – Why
David Fenech : Electric bass, Fender Rhodes
Jac Berrocal : Voice, Lyrics
Vincent Epplay : Drums
05 – Lonely Woman
Written by Ornette Coleman
David Fenech : Electric guitar
Jac Berrocal : Trumpet
Vincent Epplay : Gong, Percussions, Electronics
06 – Lisiere island
David Fenech : Electric guitars
Jac Berrocal : Trumpet
Vincent Epplay : Synthi AKS, EMS sequencer ,Field recordings, Drums
Sayoko Papillon : Voices, Lyrics
07 – Salta Girls
David Fenech : Electric guitar, Field recordings (Salta, Argentina – 2012)
Jac Berrocal : Trumpet
Vincent Epplay : Percussions
08 – Check Sound Check
Jac Berrocal : Voice
Vincent Epplay : Editing, Cut Up phonics
09 – Blanche de Blanc
David Fenech : Electric guitars
Jac Berrocal : Voice, Lyrics
Vincent Epplay : Electronics, Digital filter, Samples
10 – Lower Mechanism
David Fenech : Berimbau, Electronic Rhythms, Electric guitar
Jac Berrocal : Trumpet
Vincent Epplay : Editing, Digital filters, Sound Effects
Sunra Epplay : Baby laughs
11 – Radio Tashkent
Jac Berrocal : Voice, Lyrics, Field Recordings
Vincent Epplay : Editing, Cassette Player sounds
12 – Panic in Surabaya
David Fenech : Javanese Gamelan
Jac Berrocal : Trumpet
Vincent Epplay : Electronic Percussion, Digital filter
13 – Sound Check
David Fenech : Electric Guitars
Jac Berrocal : Voice, Lyrics
Vincent Epplay : Percussions, Spring Box
14 – Ice Exposure
David Fenech : Drum Beat, Electric guitar
Jac Berrocal : Trumpet, Voices, Lyrics
Vincent Epplay : Electronic percussion, Digital filter, Persephone synthesizer
BONUS TRACKS (CD only)
15 – Dickinsonia
16 – Take My Diction
Recorded in Paris, Montreuil, Salta, Tashkent, 2012 – 2017
A2 + A4 recorded by Thibaut Javoy.
Distributed by Cargo.
Keeping faith with the sober cover design of their first release on Blackest Ever Black (2015's Antigravity) Berrocal, Fenech and Epplay's new LP once again reels off a series of noirish, outlandish scenarios in which the recurrent themes include invocations of veteran Berrocal's jazz touchstones (there's a cover of Ornette Coleman's 'Lonely Woman') and dreamy or dread-filled evocations of far-flung destinations: instead of 'Panic In Bali' and 'Riga Centraal' we now get 'Panic in Surabya' and 'Car Havana Midi'. 'Radio Tachkent' suggests that radio, and the possibility of drifting between different, overlapping transmissions, is also part of the picture. But that doesn't mean that Ice Exposure is chaotic. Its 14 tracks are like punchy scenes or short stories – rich in dubbed-out detail, spooked vocal and trumpet lines, kicks like distant, controlled explosions and twangy, whammied guitar, but also tightly edited. You get the angle, the impression, and then you move on.
The Quietus – David McKenna , January 31st, 2019 (link)
Ice Exposure is a tense, volatile retch from the outskirts of spoken word, jazz, pitch black dub, no wave rock and splintered electronics. A lot of the album hangs on Berrocal's avant-garde trumpet wails and raspy French and English prose, rattling around an industrial noir sound palette. A compelling side-step into a dark side back alley. Berrocal is in his 70s too – talk about staying restless.
Mookid – Conor McCaffrey February 1, 2019 (link)
Tweede album van trio op Blackest Ever Black. Zoals de titel doet vermoeden hebben we te maken met een ijskoud geluid, uitdagend, gevoelig, rauw, vluchtig en kwetsbaar. Aspecten van noir jazz, musique concrète, no wave, art-rock, sound poetry, elektronica. Wist je dat Berrocal sinds de seventies al samenwerkte met Nurse With Wound, Lol Coxhill, Pascal Comelade en James Chance? Luister naar 'Lonely Woman', met een knipoog naar Ornette Coleman.
Konkurrrent (link)
Noir jazz, musique concrète, no wave art-rock, sound poetry and spectral electronics tutto questo che compenetra in maniera imprevedibile creando ansia e paranoia. Insomma questo disco è un fottuto capolavoro.
Sunday Market #64–2019.02.17 (link)
Noir Jazz, Musique Concrète, No Wave Art-Rock, sound poetry and spectral electronics all interpenetrate in unpredictable and exhilarating ways, bringing together moments of great sensitivity and romanticism under a mood of anxiety and paranoia.
equilibrium music – Feb 2019 (link)
Se si parla di musica, è sempre facile scivolare fuori dal vocabolario proprio e formale. Quando parliamo di ciò che ascoltiamo, abbiamo sempre la possibilità di affrontare il tutto in modo retrospettivo, contestuale e analitico, mettendo in rilievo e dando spazio a ciò che il musicista, o i musicisti, hanno fatto o pensano di fare. Per varie ragioni, però, più spesso optiamo per tentativi che si sforzano di comunicare a parole non solo quello che la musica è di fatto, ma anche ciò che noi "siamo" o "diventiamo" quando la ascoltiamo.
Inutile dire che tale esperimento ci porta costantemente a conferire a dischi e artisti capacità che vanno al di là delle loro normali volontà e possibilità, descrivendoli tramite aggettivi che sfiorano sempre la metonimia e la metafora, causando imbarazzo da parte di coloro che magari, avendo una conoscenza approfondita della musica in senso classico, avrebbero sicuramente optato per approfondimenti decisamente più ortodossi.
Questa prima riflessione, oltre che essere un espediente per nutrire le mie personali e stupide narrative, è anche il centro su cui potrebbe ruotare l'esame della carriera artistica di un individuo come Jacques "Jac" Berrocal. Quello di Berrocal e del suo trio insieme a David Fenech e Vincent Epplay, in questo caso, è un sentiero che a più riprese ha incrociato altri ambiti più o meno artistici e più o meno accademici, almeno in senso ampio e che per essere descritto ha sempre bisogno di concetti non strettamente appartenenti alla musica.
Infatti "Ice Exposure", ultima fatica del trio licenziata a gennaio da Blackest Ever Black, è un disco che è stato definito come un sequel ideale di "Antigravity", mediato dal sette pollici "Why" (entrambi sempre per BEB). Oltre a essere stato inquadrato come un lavoro tra noir jazz, musica concreta, no-wave, sound poetry e art-rock, si è detto che sia un album spettrale in cui, ammantato di un'aura di delicato ed elegante romanticismo, regna un'atmosfera paranoica e infausta, che prende le tinte fosche di un sensibile psicodramma lanciato verso l'imprevedibile, fino all'esilarante e al surreale. Siamo bloccati in un immaginario tra il cinematografico, il musicale e il letterario.
A voler ben vedere, quella di Berrocal e del suo trio è una musica che per varie ragioni deborda fuori dal vasto seppur limitato universo del sonoro, per incontrarsi con l'immagine in movimento, la pagina stampata e un certo Zeitgeist che si rende pesantemente presente e palpabile.
Partendo da principio, o da uno dei principi, se preferite, Berrocal è una figura importante per tutto quello che è il panorama post '68 francese. Con alle spalle un nonno che faceva parte di una banda militare zuava, inizia a suonare la tromba durante il servizio di leva nazionale al confine tedesco, imparando da due commilitoni. Ascoltando alla radio, sulla francese Europe 1, da Ella Fitzgerald a Vince Taylor – fino a roba come "Lonely Woman" di Ornette Coleman e Don Cherry (presente in una versione del trio anche nell'ultimo disco per Blackest Ever Black) e "My Favourite Things" di John Coltrane – Berrocal entra in contatto con tutta la musica che lo influenzerà fino a oggi.
Nei Settanta arrivano poi i primi dischi: "Muziq Muzik", del '73, con Dominic Coster e Roger Ferlet, viene registrato in una chiesa romanica, del cui riverbero il trio si innamora. Oltre a ciò, almeno indirettamente per stessa ammissione di Berrocal, il lavoro è influenzato da un certo immaginario religioso, espresso nell'arte e nell'architettura delle imponenti sinagoghe, moschee e cattedrali, anche se non meno dagli atti di liturgia e decoro, parte di un tipo di vissuto spirituale di matrice culturale delle sue "statue sanguinanti e oscure chiese".
Ma la musica di questo fantastico primo album viene soprattutto dall'impatto di alcuni viaggi che Berrocal e Ferlet fecero in Tibet, Nepal, Giordania, Iraq e Siria, riportando indietro anche numerosi strumenti: "world music", molto prima che il termine venisse utilizzato da Billboard nel '90.
In seguito per Berrocal ci sono varie cose: c'è il periodo esplosivo con Catalogue e album meravigliosi quali "Hotel Hotel" (Nato) e "La Nuit Est Au Courant" (In Situ) e collaborazioni con Nurse With Wound, Pierre Bastien, Ghédalia Tazartès, Lol Coxhill, Pascal Comelade and James Chance. Senza dimenticare ciò che farà come attore teatrale e cinematografico tra '80 e '90 ("Irena et les ombres" e "Confessions d'un Barjo", per citarne un paio) e compositore di colonne sonore ("Votre enfant m'intéresse" e "Question d'identité").
Più recentemente abbiamo l'attività con David Fenech (software developer per IRCAM e leader del collettivo "Peu Importe" a Grenoble) e Vincent Epplay (visual artist interessato alla composizione aleatoria, alla musica concreta e alla riappropriazione di materiale filmico d'altra epocal'attrazione per il fantasmatico, ciò che è haunted, e la sua influenza sul reale sono esplicite. Se da una parte la parola "fantome" era già presente in "Antigravity", pronunciata proprio da Berrocal, Epplay ritiene che essa possa provenire, complice una certa scuola di matrice "hauntologica", non solo dal tono delle composizioni, ma anche dal materiale video che gli artisti utilizzano nelle performance e che non scindono dall'esecuzione prettamente musicale.
Un secondo aspetto è quello delle suggestioni, impressioni di viaggio: l'interesse, sempre esplicito in "Antigravity", ma presente anche in "Ice Exposure" (vedi pezzi come "Salta Girls" and "Lisiere Island"), è quello di ciò che rimane inconsciamente avvinghiato al nostro io, nascosto nelle nostre interiorità dopo i viaggi; atmosfere che assorbiamo e che riproduciamo in seguito a modo nostro. In questo senso il valore del viaggio è più quello della sua sopravvivenza in noi come memoria, più che un tentativo di riemulazione dello stesso in chiave orientalista.
Come possiamo quindi ben vedere, non è un caso che al trio Berrocal-Fenech-Epplay e le loro opere ci si riferisca utilizzando di volta in volta espressioni, concetti e metafore prese a prestito non solo dalla musica ma anche dalla cinematografia, dalla letteratura e, perché no, persino da pittura, filosofia e politica (dato l'incontro tra cultura post-sessantottina e impressionismi world non mi sembra poi così fuori luogo). Ma è pur vero che quella del trio, cercando di rimanere comunque con i piedi per terra, è essenzialmente musica. Certo, una musica che evoca città desolate e notti fredde, occhiali da sole scuri, pellicole in bianco e nero, posti solitari in località esotiche degne della legione straniera e battiti d'ali di animali notturni in lontananza, ma pur sempre musica.
Potrete gustare questa full immersion al sapore di sigarette, Billy Wilder e Henry Miller in un luogo che sicuramente gli si addice come Macao. In line up assieme al trio Heith – fondatore di Haunter Records, con le sue introspezioni post club e i dreamscape policromi – e i labirinti mentali di matrice techno-industrial di Monica Hits The Ground. L'unione di forze fisiche, soniche e psichiche sotto il quale influsso è stato possibile materializzare il trio e i suoi fantasmi, sono quelle di Vasopressin, etichetta Milanese dedita all'esplorazione voyeuristica di tutto ciò che di più poetico c'è nella musica estrema e i suoi sfocati confini.
Luigi Monteanni – Zero, Milano, March 2019 (link)
Fabulously unfamiliar. Sometimes, some days, I want to hear something fabulously unfamiliar. Past experience has proven that Jac Berrocal often delivers along these lines, even though I've come to expect such a thing from him. Familiarity breeds, in this case, continual surprise. Ice Exposure on Blackest Ever Black, released in January of this year, is trumpet player and vocalist Berrocal's latest outing where he's joined by David Fenech on electric guitar, percussion and field recording, Vincent Epplay mainly on percussion and vocalist Sayoko on but one track, "Lisiere Island". This is film music without the film, short vignettes filled by a cold void and long lost sense of longing. Carnival jazz? Sinatra Sings for Only the Lonely as filmed by Jean-Luc Godard with a soundtrack created by the chance meeting of a sewing machine and an umbrella on a dissecting table sampled by The Bug. If you know those references, at least a layer deep, you'll know what not to expect from Ice Exposure.
Michael Lavorgna – May 31, 2019 Album of the Week (link)
Il est rare de voir l'univers musical de trois artistes aussi bien s'imbriquer, s'interpénétrer, et non pas s'empiler, pour créer une musique qui semble une fusion parfaite de ces trois entités. C'est ce qu'on appelle un groupe, la musique ne fait plus qu'une entité. Ce disque est encore plus réussi que le premier, déjà excellent, et c'est ce disque qui transforme le projet de trio (addition) à groupe (fusion). J'ajoute qu'il faut les avoir vus sur scène pour prendre pleinement conscience de cette alchimie.
Franky Fockers – Dec 14, 2019 Top 10 albums of 2019 (link)
Der Mann, der nicht ruhig sitzen kann
Der französische Freistil trompeter Jac Berrocal wird sein soeben veröffentlichtes Album Ice Exposure im Juni auch in Wien vorstellen. Jac Berrocal (Mitte) veröffentlichte zuletzt mit seinen Begleitern David Fenech und Vincent Epplay atmosphärisch dichte, dunkle Alben wie Antigravity. Das Bestreben, sich konsequent zwischen die Stühle zu setzen, muss zwar aus ökonomischer Sicht als nicht gerade erfolgversprechend gewertet werden. Mit mittlerweile 73 Jahren auf dem Buckel gilt der französische Musiker Jac Berrocal möglicherweise auch aufgrund eines unsteten Lebenswandels noch immer als schwer berechenbare Größe. Abgesehen davon, dass Berrocal als wehmütiger, im Hallraum agierender Trompeter und Soundpoet irgendwo im Nimmerland zwischen freier Improvisation, Cool und Free Jazz, primitivemRock 'n' Roll, diversen östlichen Weltmusiken und sanft gesprochener Beatpoesie über die Jahrzehnte mitunter schwer zu verfolgende Spuren in der Musik hinterlassen hat. Wie der auch fürs Theater und den Film arbeitende Jac Berrocal zuletzt 2015 mit einem aus ihm selbst sowie den Multiinstrumentalisten David Fenech und Vincent Epplay bestehenden Trio auf dem Album Antigravity (Blackest Ever Black) unter Beweis stellen kann, sind ihm auch modernere Sounds kein spanisches Dorf in Usbekistan. Dort sind zwischen 2012 und 2017 unter anderem Aufnahmen für die neue CD Ice Exposure auf dem Wiener Label Klanggalerie entstanden. Mittlerweile hört man längst auch Industrial- und Dub-Einflüsse, werden Field-Recordings und Tonbandschnipsel mit Plattenspieler-Spielereien und kuriosen antiken Instrumenten wie dem Persephone-Synthesizer aus den Gründertagen der elektronischen Musik kurzgeschlossen. Es ist eine frei fließende, oft freundlich-dunkle Musik, die Jac Berrocal über die Jahre auch schon mit so unterschiedlichen Musikern wie dem französischen Kinderinstrumentenkönig Pascal Comelade, Komponist Rhys Chatham oder Jaki Liebezeit von Can zusammengebracht hat. Sein repetitiver Klassiker Rock 'n' Roll Station rettete dem britischen Rock 'n' Roller Vince Taylor, der einst David Bowie für Ziggy Stardust als Vorbild diente, in den 1970er-Jahren ein letztes Mal vor dem Ruin. Später wurde der Song von Nurse With Wound gecovert und von Berrocal auf Antigravity neu interpretiert. Am 11. Juni ist Jac Berrocal mit seinem Trio übrigens gemeinsam mit Colin Potter von Nurse With Wound live in Wien im Grillx am Petersplatz zu erleben. Pflicht
Christian Schachinger – Der Standard, 25 Feb 2020 (link)
Mit "Ice Exposure" klingt auch die Zeit von Catalogue ein wenig an. Natürlich ist die Musik auch im Hier und Jetzt angekommen. Diverse Effekte wie Field Recordings, eine gute Portion an elektronischen Spielereien bereichern die ruhig fließende Musik. Natürlich gibt es die eine oder andere Verunsicherung, der Rock'n Roller ist immer noch da. Oder ist es der Punk? Seine vielen Arbeiten mit verschiedensten Musikern halten seine Musik frisch.
CD Tipp , March 23 2020 (link)
Jac Berrocal è un trombettista e poeta francese. Nato nel 1946 e molto attivo sin dagli anni Settanta, un'epoca aurea per l'improvvisazione d'Oltralpe, quando musica e teatro si incontravano frequentemente, Berrocal è tornato da poco con "Ice Exposure" (uscito per Klanggalerie Records), a quattro anni di distanza da "Antigravity", di cui costituisce il sequel ideale. "Ice Exposure", sedici brani condensati in meno di quaranta minuti, conserva quell'afflato jazz che ha quasi sempre accompagnato la carriera di Jac Berrocal, ma incorpora elementi di musica concreta e art-rock in sfumature noir, anche grazie alla preziosa partecipazione di David Fenech e Vincent Epplay, acclamati compositori e improvvisatori. I due hanno fornito il proprio apporto con le chitarre, field recordings, suoni computerizzati e percussioni (a volte anche non convenzionali) a pezzi quasi sempre brevi, che corrono in fretta quasi senza soluzione di continuità. Il prodotto finale affascina nella sua interezza come somma di singoli elementi, quasi come tessere di un mosaico. Svettano "Why", con la sua impostazione teatrale, "Salta Girls", prima acidula e poi lisergica, e "Panic In Surabaya", ma in "Ice Exposure" non c'è nulla che non sia a fuoco, titletrack compresa. Jac Berrocal, coadiuvato da Fenech ed Epplay, torna e conferma il suo spiccato gusto per la ricerca, confezionando un altro prodotto di grande spessore.
Piergiuseppe Lippolis – Music Map , March 2020 (link)
The name Berrocal I first read about in the early '80s, in the Dutch magazine for new music Vinyl, in a review about a festival in Reims. I think I first heard his music as part of Nurse With Wound with 'Rock N Roll Station'. I don't think I ever heard a solo record by him. Maybe such is the nature of musicians who make a living with improvised music. To the long list of people, he worked with he now adds David Fenech and Vincent Epplay. The first plays guitar (mostly) and drums (a bit) and the latter percussion, editing, synths and so on. Jac Berrocal is on his trusted trumpet and vocals. The sixteen songs were recorded between 2012 and 2017 and are mostly short, with an average length of two and a half minutes. That brings an interesting dynamic to this album; one that we might label as 'songs'? While improvisation is surely the basis of the music, there is a fine amount other influences, one of this being the somewhat energetic, punky approach in some of these pieces. Be it a drum machine, voices (sung or found), repetitive synth sounds. The trumpet is the one instrument that remains the same, sounding like recorded in a tunnel; oddly enough there are pieces in which Berrocal either plays the trumpet or sings, so that brings some fine variation in the music. Not every track is a sure-fire winner, but as nothing lasts for a long time, that doesn't matter, I guess; some tracks, such as 'Car Havana Midi' are great, almost a form of aggressive pop music (it is also one of the few tracks in which Berrocal plays the trumpet and sings). Fenech's guitar is spikey, the drum rolls gently and straightforward and there is much else to enjoy in terms of ornamental sounds and production. This is quite a lovely release, all around.
Frans De Waard – Vital Weekly 1227, March 2020 (link)
Ice Exposure, ovvero un intricato progetto che contiene una moltitudine di elementi giunti dalle più disparate esperienze di ascolto. Post-punk. jazz, no wave, spoken word, impro, avant-garde e computer processing a comporre un affresco oscuro sua quale la tromba di Berrocal crea isole di attesa dove fermarsi prima di affrontare il percorso seguente ricco di ìncontrollata inquietudine. Fenech e Epplay agiscono alla perfezione usando chitarre, elettronica, field recortfing e percussioni per creare un suono denso e oscuro del quale si perde il controllo. Ce lo si ritrova improvvisamente appiccicato addosso COME UN'AMANTE NON AMATA.
Mirco Salvadori – Rockerilla, April 2020
Ice Exposure ist das zweite Album des Trios Jac Berrocal / David Fenech / Vincent Epplay. Federführend ist wohl der 1946 geborene Trompeter Jac Berrocal, der schon seit Jahren einen Namen im Umfeld der experimentellen Jazz, Rock und Popmusik hat, so hat er zum Beispiel mit Nurse with Wound und Jaki Liebzeit zusammengearbeitet. Zusammen mit David Fenech (Perkussionen, Turntables, Elektronik, Tasten) und Vincent Epplay (Keyboards) hat er wohl aber nun die Besetzung gefunden, in derer sich komplett verwirklichen kann.
Was ist dieses Album für ein skurieler Ritt durch die unterschiedlichsten Spielarten. "Oppertunity" eröffnet mit dunklen Soundscapes aus Elektronik und Perkussion, über die sich eine sehnsuchtsvolle Trompete mit viel Echo legt. Danach schießt dem Hörer die verquere Elektronik von "Car Havana Mix" mit verhalltem französischen Sprechgesang, dunklen Drones und einer hellen Trompete durch die Ohren. Eine dunkle, mittelamerikanisch anmutende Perkussion unter der dunkle Dronebeats und verquere Elektronik liegt, bietet dann das Soundbild in "Equivoque". Auch diese psychedelische Klanglandschaft wird von der Trompete geführt. Harschen Noiserock gibt es darauf basierend auf einem knackigem Schlagzeug, einer knarzenden Gitarre und Sprechgesang in "Why". Staubtrocken und exzellent mit ein paar elektronischen Spuren verziert. Und die später einsetzenden Keyboards sind so richtig schön kaputt. Dunkle Bassläufe liefern sich dann mit der glasklaren Trompete ein feines Duell in "Lonley Woman".
Und so folgt Klang auf Klang, es wird mal gerockt, dann kommen wieder jazzige Passagen und immer viel Experiment. Das geniale an den Stücken ist, dass sie immer recht kurz sind und die drei so ihren Drang zum Experiment so richtig schön komprimieren und sich niemals zum reinem Geräusch entwickeln. Dann sind auch fast überall gut komponierte und durchdachte Melodien und Strukturen vorhanden und machen das Album zu einem durchgängig hörbaren Abenteuer.
Die Atmosphäre ist sehr düster, oft bedrohlich, wie ein spannender Noire-Film. Gesanglich gibt es meistens Sprechgesang, dann und wann auch mal weiblichen. Auf diesem Album passiert soviel, dass man es vermutlich auch nach oder mehr Hörgängen noch nicht alles erfasst hat. Aber dank der guten Produktion wirkt dies niemals überladen, jede Note, jeder Klang ist fein temperiert und nichts scheint über zu sein.
Natürlich ist das hier nichts für den allgemeinen Pop- und Rockhörer. Doch wer mal ein wenig abseits der Normalität nach spannenden anderen Dingen suchen möchte, findet hier ein perfektes Werk, um nicht direkt vor den Kopf gestoßen zu werden. Perfekt gemacht, klasse Album
Wolfgang Kabsch – Musik an sich (link)
Von den drei hier versammelten Musikern muss man wohl vor allem Jac Berrocal niemanden mehr vorstellen. Lesern von Seiten wie unseren ist der aus Südfrankreich stammende Trompeter und Vocalist von seiner Zusammenarbeit mit (und Interpretation durch) Nurse With Wound her bekannt, eventuell auch durch spätere Aufnahmen mit Jaki Liebezeit oder Ghedalia Tazartes. In den beiden Klangkünstlern David Fenech und Vincent Epplay hat der heute 73jährige Berrocal ideale Partner gefunden für seine seit den 70ern entwickelte Musik, die auf den Fundamenten von Rock und Freejazz steht, aber zugleich offen ist für "Zeitgenössisches" und für einiges, was Punk und Industrial so nach sich gezogen haben.
"Ice Exposure" setzt da an, wo die drei vor fünf Jahren mit "Antigravity" einen vorläufigen Endpunkt setzten: Nächtlich anmutende Klangsettings, oft wuchtig und feinsinnig gleichermaßen, bilden die Kulisse für Berrocals schallgedämpfte Trompete, die oft wehklagend, bisweilen rasend und auch immer mal in besinnlichen Tönen sämtliche Register ihres Repertoires zieht.
In einem Stück wie "Lisiere Island" lässt ihr abgeklärtes Spiel eine fast heimelige Desolatheit entstehen, wenn sie mit dem Hauch einer weiblich klingenden Stimme verschmilzt. Doch verhindern das Dröhnen des Feedbacks und das Zischen der malträtierten Becken jedes eskapistische Abdriften in der abgedunkelten Hörspielwelt. In "Car Havana Midi", in dem Berrocal mit hallunterlegter Stimme einen Text über Oldtimer-Autos vorträgt, bei dem Pathos und Inhalt kontrastieren, sorgen pfeifende Hochfrequenzen dafür, dass man die beschriebene Welt nicht für allzu wirklich hält. In der bissigen Satire "Blanche de Blanc" treibt eine elektronische Lärmlawine den Text über eine weißgewaschene Welt vor sich her, während Affengelächter das Ganze passend kommentiert. In manchen Tracks kulminiert die Musik in puren Noise. Mal ist es das schrille Fanal der Trompete ("Equivoque"), mal ein Strudel durcheinander gewirbelter Sounds ("Why", "Check Sound Check").
Doch das ist nur eine Art, wie Berrocal, Fenech und Epplay auf die titelgebende Eiseskälte reagieren, denn "Ice Exposure" hat mehr als genug feinfühlige Momente: Der verspielt-melancholische Texmexsound zur sentimental klagenden Melodie in "Salta Girls" ist beinahe so berührend wie Berrocals erschöpfte "Welcome to my destruction"-Shouts im rumpeligen Post Punk von "Sound Check". Fast unscheinbar bildet die Interpretation von Ornette Colemans "Lonely Woman" den Höhepunkt, bei dem selbst berstendes Glas das sanfte Lamento nicht von seinem Weg abbringt.
"Ice Exposure" erschien vor einigen Monaten als LP bei Blackest Ever Black und ist nun als CD mit zwei Extra-Tracks über Klanggalerie erhältlich.
African Paper – April 2020 (link)
説明不要、Nurse With Woundが敬愛する異端前衛音楽家のJac Berrocal、ギターやウクレレ等を使いRhys Chatham、Pierre Bastien、NWW、Klimperei、GhedaliaTazartesという大御所勢と数多くの共演をしてきたDavid Fenech、そして当店では以前より個人的激推し作家で紹介、音楽のみならず映像作品も紹介してきたビジュアル/サウンドアーティストVincent Epplay、フランスの強者が集った最強のトリオによる2019年LP作が、新たに2曲のボーナスを追加し2020年CDエディションとして再登場!!ジャズ、アートロック、インプロヴィーゼーションがごちゃ混ぜ、またフラフラとした何処かパフォーマンス?演劇的?なイメージが付き纏い、それが直接マインドに訴えかけてくるサイコドラマの様。コレは怪作です。激激オススメ。
Art Into Life – May 2020 (link)
The sequel/companion album to 2015's brilliant Antigravity sees the Parisian jazz improv iconoclast reunite with sonic artists Fenech and Epplay, taking their subterranean jazz-cool broadcasts and studio dub grooves and subjecting them to a punishing regimen of cheap speed, electroshock therapy and no wave despair.
Andrew Male – MOJO , June 2020
Tecnicamente è una ristampa perché il vinile è uscito a gennaio del 2019 ma potremmo anche considerarlo una stampa 'allargata' dell'originale pubblicato da Blackest Ever Black (ci sono due tracce in più, peraltro molto buone), dato che il tempo trascorso è cosi poco. Comunque la si metta, "Ice Exposure" è un gran bel disco realizzato da Jac Berrocal, settantaquattrenne trombettista e vocalist che iniziò negli anni '70 come musicista improv (a tempo perso anche attore) annoverando nel tempo una lunga lista di collaborazioni illustri (Nurse With Wound, Lol Coxhill, Sunny Murray, Lizzy Mercier Desdoux, Pascal Comelade, James Chance, Jaki Liebezeit), insieme ai due più giovani amici David Fenech, chitarrista e bassista anch'egli dalle ottime frequentazioni (Jad Fair, Rhys Chatham, Tom Cora, James Plotkin, Ghedalia Tazartes), e Vincent Epplay, batterista, tastierista, synthesista e computerista.
La mediamente breve durata delle canzoni non tragga in inganno: non si tratta di schizzi e appunti, l'insieme è coerente e i pezzi sono col/legati idealmente e tecnicamente in una sorta di unica lunga suite, la soundtrack di un film noir, un thriller sospeso e inquietante (al di là del senso, l'intonazione delle recite di Berrocal è vagamente folle) che procede tra camere d'eco d'ascenza dub (Opportunity, la resa di Lonely Woman di Ornette Coleman, le inedite Dickinsonia e Take My Diction), sventagliate di batteria /percussioni (Car Havana Midi), echi di exotici mondi lontani (Equivoque, Lower Mechanism, Panic In Surabaya), meccaniche robotiche
(Why, quella specie di r'n'r che si chiama Sound Check ed è degno dei primi Devo), riflessi post industrial (Lisière Island, la splendida Bianche de Blanc) e circensi (Salta Girls), similballate malinconiche (Ice Exposure).
Un gran bell'album a cui probabilmente avrebbe giovato una maggior astuzia commerciale, per esempio un nome da gruppo e qualche ritocco d'arrangiamento (stirare i pezzi 'rock', accorciare quelli ambient). Ma a quel punto, come mi dicono dalla regia, sarebbe stato un altro disco: accontentiamoci del molto che già c'è.
Stefano L Bianchi – BLOW UP, May 2020
Versione CD con due brani in più del vinile edito dalla londinese Blackest Ever Black lo scorso anno. Un guazzabuglio paludoso e seducente, fra umori post-punk e spigoli jazz, l'arte dell'impro, materia concreta e stati d'alterazione. "Ice Exposure" e la seconda uscita per il french-trio composto da Jac Berrocal (classe 1946, tromba e inquietudini vocali), David Fenech e Vincent Epplay (chitarre, field recordings, gamelan, berimbau, drum machine, synth ed elettronica variaavariata). Ai due per farla breve fumano d'esperienza di non poco, e il Berrocal, non può trovar di meglio per esibirsi nelle sue performance tra paranoia e psicodramma in salsa quasi No. Espansioni noir di spettrale violenza per lo più, come degli Anti Group in fase di istant composition dai toni più zuzzerelloni. Te lo avvolgi tutt'attorno stretto stretto e senti tu che particolari brividini. Chapeau.
Marco Carcasi – Kathodik, June 2020 (link)
Een beetje kil, zo wordt 'Ice Exposure' om-schreven, een cd waarop trompet-tist en enfant terrible Jac Berrocal de degens kruist met David Fenech en Vincent Epplay. Ze zijn tekeergegaan op een veelheid aan bouwsteentjes en hebben daar con-structies mee opgericht die oren en ogen doen duizelen. Piepknor-doosjes, verwaaiende kinderstem-men. In 'Salta Girls' een echoënde trompet over maniakale trommelsla-gen die onmiddellijk The Residents voor de geest toveren, zeker met het wankelende gitaartje dat zich onbe-vreesd in dat gewoel mengt: een mengelmoes die eindigt in een ont-roerend koortje op afstand. Niets is te gek voor dit drietal. Sommige num-mers duren nog geen minuut, bestaan uit luid gescandeerde teksten, afge-wisseld met een enkel beukend ak-koord. Het is rock, maar ongeremd gekke rock. Als je dit hoort, vraag je je af waarom de Nederlandse belang-stelling zo eenzijdig gericht is op muziek uit Engelstalige streken. Frankrijk biedt niet alleen een onge-kende rijkdom aan klanken, er komen daar zaken vandaan waar de Britten en de Amerikanen zich niet aan wagen, een meeslepende dolzinnig-heid die mij althans bijzonder geluk-kig stemt. Laten we wel wezen, Frankrijk zal ook de bakermat zijn van veel afzichtelijke muziek. Maar als daar een trio als Berrocal, Fenech en Epplay opstaan om ons de oren te wassen, dan moeten we die flappen aan weerszijden van ons hoofd daar beslist eens te luisteren leggen. Die van mij gaan er in ieder geval uiterst plezierig van gloeien.
rvp – Gonzo Circus, June 2020
Ein düsteres Klangkolorit als pures poetisches Statement. Wo der Vorläufer "Antigravity" aus dem Jahr 2015 sensibel mit sphärischen Klängen spielte, knüpft auch der Nachfolger des gefeierten Trios an und löst ein veritables Kopfkino aus. Ein Beat wie eine langsame Kontraktion des Herzens aus der Distanz, kommuniziert mit repetitiven elektronischen Einstreuungen tief im unbekannten Raum. Jac Berrocals behutsam arrangierte Trompetenklänge und David Fenechs fast schon zärtliches Gitarrenspiel komplettieren die elektronischen Einstreuungen Vincent Epplays und locken die Zugewandten damit in eine wundersame und zugleich verstörende Welt der Musique Concrète und des Jazz Noir. Die Klangkünstler synthetisieren und devastieren nahezu synchron und schaffen ein faszinierend sanftes Meisterwerk, welches nicht mit Gänsehautmomenten geizt. Gemastert und arrangiert wurde dieses Kleinod vom legendären Noel Summerville. Unbedingte Kaufempfehlung!
Jenny Kracht – Ox Fanzine number 151, August 2020 (link)
Ice Exposure is darting 'n' subtly daring three-way collaboration that sits somewhere between jazz, improv, sparse electro texturing, experimental post-punk, and general mellow-if-crazed experimentation. It's a forty-two-minute album that takes in sixteen tracks- which flirt between slightly wacky noir mood-ness, darting & building quirkiness, and a blend of the two. The release comes as either a vinyl release on Blackest Ever Black & a CD release on Klanggalerie- I'm reviewing the latter. The release brings together the French trio of singer, composer & trumpeter Jac Berrocal, composer, guitarist and singer David Fenech, and visual and sound artist- Vincent Epplay.
The sixteen-track album moves from moody & expressive trumpet piping, bit biting electronics, darting noir drums/  guitars, and French spoken word of "Car Havana Midi". Going onto the swimming static, baying harmonics, and bounding beat pulse of "Lisiere Island" which features touches of east promise horn work, and ghostly backwards 'n' forwards female vocals. Through to pin-pong ethic beats, trumpet wails, and snaking-bounding post-punk guitar tones of "Lower Mechanism". Finish with a tolling-to-ringing blend of wayward electro texturing & radio voice texturing meets sadly wail trumpet playing of the final track "Take My Diction".
If you enjoy where largely mellow jazz, darting improv,  quirky-to-playful electronica, and light sampling meets- I think you'll most certainly get a kick out of Ice Exposure.
Roger Batty – Musique Machine, October 2020 (link)
L'éternel Jac Berrocal (ici trompette et voix), poète vagabond et musicien iconoclaste (collaborations avec entre autres Nurse With Wound, Sunny Murray, Lizzy Mercier-Descloux, Lol Coxhill, Yvette Horner, James Chance, Ghédalia Tazartès, Étage 34…) en trio avec David Fenech, guitares, et Vincent Epplay, synthétiseurs. Comme une mécanique pop aux frontières de la no-wave et d'un jazz ambiant.
CorticalArt (link)
Black Ice
Here's an essential "dark beast" from Jac Berrocal, that maverick French performer who's often mistaken for a jazz musician and improviser, but whose considerable powers exceed such boundaries and burrow deep into forbidden musical grounds. Berrocal is associated by many with the Nurse With Wound connection, and it's to Stapleton's credit that he brought this unique player into the orbit of a few more discerning listeners, but there's still something unfathomably weird about Berrocal that I still can't adequately understand. I mean, even his 1986 album Nato, Nato is a puzzling mix of styles, genres and conflicting ideas, and somehow it's not enough to simply describe how he breaks down the walls of music categorisation, although he does so emphatically.
I've been sensing a more troubled and world-weary voice for some years now, especially if we look at albums like Disséminés Ça Et Là… (with Toeplitz and Cognard) full of grim music which appears to be emerging from the depths of a psychic cavern. For sheer bizarritude though, it's still hard to beat the 2011 Superdisque record which he made with the French guitarist David Fenech, and fellow outre-genius Ghédalia Tazartès. Fenech is here on today's record Ice Exposure (KLANGGALERIE GG326), along with super-talented instrumentalist and visual artist Vincent Epplay. Technically this CD is a reissue as the album came out in the UK on Blackest Ever Black in 2019, although we've got two bonus cuts on this CD. It's also a follow-up to Antigravity, which the three of them made in 2015 (we never got a copy, more's the pity). At one level, Ice Exposure is a superb document of strong studio performances, with lots of live interplay and strange, sprawling ideas; Fenech contributing guitar, tapes, percussion, backing voices and even a bit of turntabling, with Epplay on drums, percussion, synths, both of them ably supporting Berrocal as he emits his free-wheeling echoed trumpet blasts with far more consternation and neurotic energy than we heard on that rather limp and bucolic Straight Outta Bagnolet jam session (which I believe has since been disowned by Berrocal as it apparently came out without his agreement).
However, even more interesting are the Berrocal voice segments, streams of word-association and poetic spew which he delivers like some unholy cross between Burroughs, Bukowski and Captain Beefheart, with a tone that veers between a mood of outright disgust / despair at the modern world, and one of deep-seated alienation. The 16 tracks, some of them ending quite abruptly and cut at surprising edit points, start to assume the proportions of a very disjointed radio broadcast, a TV show from the depths of Hell…portraying in broken images and flashes of insight an extremely troubled and disrupted world. I'd like to think that the force of Berrocal's personality, and his convictions, are what has driven the two supporting musicians to unleash their inner dark fire, and instinctively find just the right mode of playing and choice of devices to express complete sympathy with this occluded Berrocal vision; they're certainly kept on their toes at all times, having to respond quickly to every change of mood and violent emotional mood swing. I see it was recorded over a five-year period, 2012-2017, a fact which may simply reflect the logistical problems of getting these musicians together in one place, but at the same time my guess is that it would be tough work to sustain this level of intensity for a single recording session.
Not an especially easy listen, and at times so chaotic that it might try your patience, but overall a very cathartic and rich experience awaits you. A modern film noir / sound documentary that dares to reveal some unpleasant truths about modern life, many unresolved conflicts … an updated Alphaville fable for our times. From 12th March 2020.
Ed Pinsent – The Sound Projector, October 2020 (link)