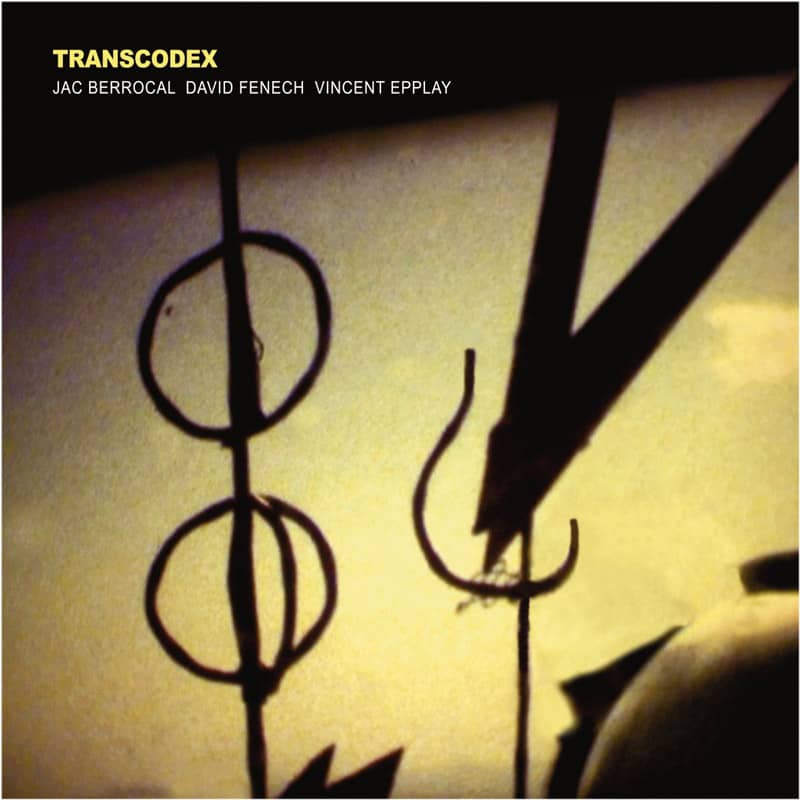 Jac Berrocal + David Fenech + Vincent Epplay – Transcodex
Labels : Akuphone (AKU1037 – LP/DL), KlangGalerie (CD – gg402)
Release date : 2022
Transcodex is the fourth album from the trio Jac Berrocal + David Fenech + Vincent Epplay.
Featuring Jah Wobble and Jean-Hervé Peron on four tracks of the album.
Mastered and cut by the legendary Noel Summerville.
Press Release from the label :
Jac Berrocal, David Fenech and Vincent Epplay are back with a true gem of an album: Transcodex. Turning more towards pop than in their beginnings, this fourth record follows the footsteps of their previous album, Exterior Lux. The trio seems limitless: they experiment with a large variety of styles (pop, dub, electronica, dark jazz), always colored by their very own touch. Jac Berrocal's trumpet, richer than ever, plays over an ever-changing sonic landscape engineered by the duet of musicians/producers Vincent Epplay and David Fenech.
For this album, they invited two amazing musicians. Jah Wobble (founding member of Public Image Ltd and collaborator of African Head Charge, Brian Eno, Holger Czukay, Jaki Liebezeit, Evan Parker, Sinéad O'Connor) plays deep bass lines on two tracks. Jean-Hervé Peron (founding member of the German band Faust, and who recorded with Tony Conrad, Nurse With Wound, Pascal Comelade) brings his prowess to two tracks as well. Peron writes lyrics in French, German and Russian — and plays the French Horn like no one else.
The closing track of the A side is a tribute to Christophe Bevilacqua (1945-2020), friend to Jac Berrocal. The song summons the place Bevilacqua used to live in: an Art Deco flat on Boulevard du Montparnasse, Paris.
Even if its intentions are clear, Transcodex does not reveal all its secrets right away. It's up to you to find the solution, the key, the Transcodex yourself. It must be revisited over and over again for its beauty to be fully revealed.
The tracks with Jean-Hervé Peron were recorded with the help of Amaury Cambuzat (from the band Ulan Bator), also a member of Faust.
Tracklisting :
01. Catafalque
02. Javanese Sea Fleur
03. Ghost Song
04. Chapelle Ganache
05. Noire Est La Nuit Sur Montparnasse
06. Transcodex
07. Ives
08. Das Leben
09. Nuristan Est
10. Dactylo Horns
11. Les Filles (Bonus track only on CD or DL)
2 Videos by Vincent Epplay and Stéphane Broc :
On change radicalement de style. C'est un peu souvent le cas dans Kérozène et je remercie beaucoup David Fenech de m'avoir envoyé en avant première le nouveau projet Transcodex (c'est le titre de cet album). On y retrouve Jac Berrocal, David Fenech et Vincent Epplay. Si je ne m'abuse, c'est le troisième volet de leur rencontre musicale. Ça sort sur le label Akuphone Records. Pour l'instant, il y a qu'il n'y a que deux titres en extrait sur le Bandcamp d'Akuphone… J'ai l'autorisation d'en passer un autre… et pour cet album, on les voit collaborer également avec Jah Wobble, le mythique bassiste de PIL, et également Jean Hervé Péron, un des membres de Faust. Et ce disque, ça vous propose… par rapport aux précédents qui étaient très urbains je trouve, qui étaient vraiment marqués par la rêverie, la rêverie urbaine. Je trouve que cette fois ci, on est toujours dans le domaine nocturne… mais comme une balade en taxi dans différents quartiers de Paris, où les vitres baissées, des bribes sonores nous arrivent. Des bribes de musique orientale, de musique africaine, parfois de musique acousmatique, de dub, de post-punk. Le tout organisé par trois chauffeurs qui adorent les marges et travailler dans la marge pour en créer quelque part une nouvelle route, des nouveaux modes d'expression. Et ça fonctionne vraiment une nouvelle fois très très bien, ce Transcodex! On s'écoute tout de suite un morceau qui s'appelle Javanese sea fleur. Et je trouve vraiment que cette fois ci ils ont, ils se sont ouverts… Ça reste toujours urbain, mais ce n'est pas de la même manière. On est moins sur le côté très froid, très hangar de fin de nuit…. Là, il y a la trompette bitumée, des arpèges veloutés et des ambiances épicées. Comme ce morceau qu'on écoute tout de suite et une nouvelle fois, un superbe travail sonore, encore. J'ai hâte que nos amis de Blind Spot reçoivent cet album !
Don Lurie – Kerozene – Radio KFUEL, June 2022 (link)
Concludiamo in questi ultimi 20 minuti che ci rimangono con un'atmosfera sempre pia stanza oscura, soprattutto nel primo ascolto che vi proponiamo, che viene dal disco firmato da Jac Berrocal, David Fenech e Vincent Epplay, una delle tre uscite e proprio fresche fresche dell'etichetta Akuphone che vi proponiamo questa notte e iniziamo appunto con il quarto album pubblicato da questo bel trio. Si intitola Transodex e il brano che abbiamo scelto per questa notte è Das Leben (…) Le atmosfere notturne nella narrazione di Jac Berrocal, questo brano, intitolato Das Leben nella musica realizzata con la complicità di David Fenech, e Vincent Epplay, un trio che predilige sonorità che rimandano all'oscurità, la nebbia al mistero e insomma un ambientazione noir, tanto per rimanere in tema cinematografico. Un disco, questo nuovo lavoro appena uscito per la Akuphone, che vede anche la presenza di due ospiti importanti come Jah Wobble e Jean-Hervé Peron.
Battiti – RAI 3, June 2022 (link)
Il prossimo disco è un disco di tre cari musicisti a me molto cari Jac Berrocal, Vincent Epplay e David Fenech. Sono usciti con un nuovo disco, Trancscodex per l'etichetta Akuphone, un'etichetta che sto seguendo con molta attenzione perché spazia dalla musica etnica alla ricerca all'elettronica, alla canzone d'autore. I tre musicisti si conoscono da molto tempo. David Fenech alla voce, ai processi della batteria, al basso, alla chitarra, tutta una serie di percussioni, Vincent Epplay al sintetizzatore all'elettronica, anche lui alla voce, effetti batteria e Field Recordings e naturalmente Jac Berrocal alla tromba e anche alla voce. In questo disco si sono serviti anche dei preziosi servigi di due musicisti importantissimi. Il primo è Jah Wobble. Jah Wobble è il membro fondatore dei Public Image Limited, nonché collaboratore di Brian Eno, di Evan Parker, di Jaki Liebezeit e di Holger Czukay. E poi c'è anche Jean Hervé Peron, che è uno dei membri fondatori dei Faust, un gruppo importantissimo per quella stagione della musica tedesca. Il solito disco del trio, questo transcodex, si distanzia forse un po 'dal precedente Exterior Lux. Qui forse c'è più un'attitudine pop, sempre che da prendere con le pinze questa definizione. Quando si parla di questi tre musicisti, di certo una miscela di dub, di elettronica di genere piuttosto oscuri, tutti toccati dalla maestria di questi tre musicisti da questo transcodex. Ho scelto il brano che apre il disco Catafalque.
La Radio Uabab – June 2022 (link)
Transcodex gene splices a variety of styles (pop, dub, electronica, dark jazz), with each musician comingling their own unique stylistic quark, strangeness and unique musical influences into the sound. The latest album by Jac Berrocal, David Fenech and Vincent Epplay is completely unique.
Archie Patterson – Eurock, July 2022
Ankündigung bei Künstlern: Experimente mit vielen Stilen, stets mit eigenem Ansatz. Die Alarmglocken der Kritiker: An. Denn es entstehen selten neuen Sounds. Vielmehr verkommen Alben so zu Sammelserien an Skizzen. Alles angefasst, nichts bis zum Ende gemacht. Allerdings ist die Lage bei dem französischen Trip Jac Berrocal, David Fenech und Vincent Epplay anders. Auf der einen Seite gehören sie zu den Schlussdenkern von Experimenten, wie sie auf ihren bisherigen Alben bewiesen. Zudem kommt auf den zehn Tracks ihrer vierten gemeinsamen Platte Transcodex nur zusammen, was für sie zusammenpasst. (Zum Glück deckungsgleich mit der Zusammenpass-Erwartung des Publikums!) Im Ergebnis hört sich das über weite Strecken wie ein experimenteller Soundtrack zu einem Arthouse-Thriller an, in den sich Pop, Dub, Electronica und Jazz mischen. Mit manchmal deutlichen Ausschlägen in die eine wie die andere Richtung. (Ghost Song reduzieren sie gar so sehr, dass es wie ein runtergeschraubter Song der Pixies klingt.) Dactylo Horns driftet in atmosphärische Sound-Welten ab, in denen sich die Trompete austobt. Catafalque mischt Dub und ein wenig Dada zu einem rhythmischen Trommelfellbeißer für mehrere Tage. Die Experimente fließen hier wie da ein, geben aber nicht den Ton an, treiben dieses Album nicht vor sich her. Was Transcodex offener, erschließbarer und ehrlicher macht, als es das Trio wohl gerne hätte. Der einzige Punkt, den sie vielleicht nicht bis zum Ende gedacht haben. Macht eine gute Platte hier aber nur besser.
Björn Bischoff – HHV Mag , September 2022 (link)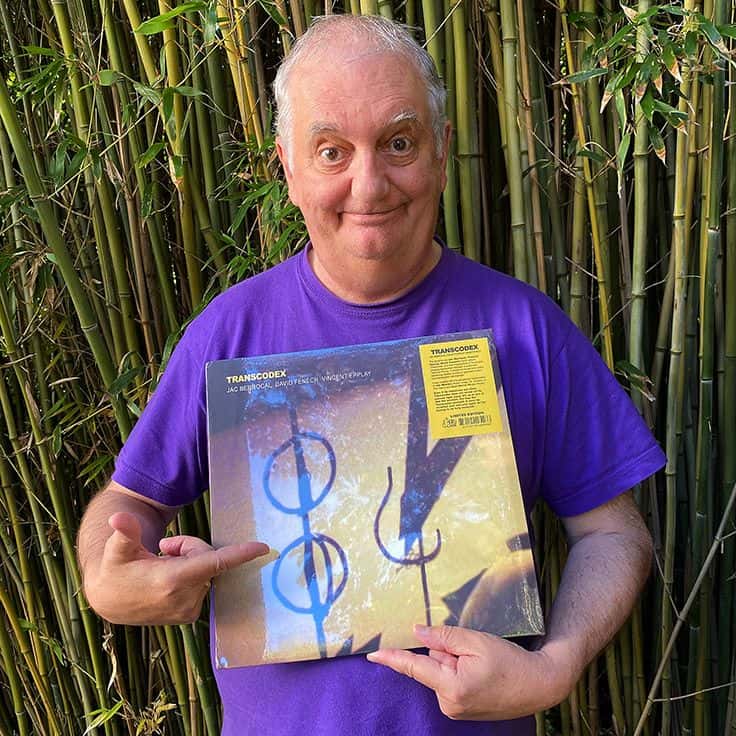 "Je viens de recevoir l'album de ma rentrée. Me voilà heureux comme un lapin.".
Jules-Edouard Moustic – September 2022. (link)
Transcodex est la 4ème collaboration avec Jac Berrocal (voix, trompette), Vincent Epplay (synthétiseurs, sampling, guitare, batterie, effets, programmation) et David Fenech (voix, basse, guitare électrique, percussions, électronique, rythmes). Avec en prime sur cet album, deux invités de luxe, Jah Wobble (Public Image Limited -PIL-) et Jean-Hervé Peron (Faust), sans oublier la participation d'Amaury Cambuzat (Ulan Bator, Faust). La musique de ce trio en expression libre, est un mélange réussi de (free) jazz, world, dub, art rock, d'industriel, collage/poésie sonore/surréaliste, expérimental, électro, ambiance cinématographique, soit une musique qui aurait toute sa place dans la collection Made to Measure du label belge Crammed Discs. Ici la liberté de style permet de côtoyer des sons, harmonies, urgences, qui nous évoquent Pere Ubu, Tuxedomoon, PIL, African Head Charge, Faust, Miles Davis, William S. Burroughs, TC Matic, Nurse With Wound, Mecano, Coil, Palo Alto… et la couleur, atmosphère de la pochette de Transcodex évoque celle de Heathen Earth de Throbbing Gristle (1980), soit une belle collection d'artistes hors les normes.
Tout comme sur les trois précédents albums (sans oublier de nombreux albums avec Jac Berrocal), le mastering de Transcodex a été confié à Noel Summerville, qui a derrière lui un sacré CV qu'on vous laisse découvrir sur Discogs rubrique Technical. Car ici l'acoustique du son est primordiale. Pour ne pas que ce laboratoire musical fasse naître un monstre incontrôlable et sanguinaire, mais bien une belle œuvre structurée, architecturale qui s'écoute avec le plaisir de la découverte constante, le travail, les arrangements sur le son, la matière sonore sont primordiales. De Catafalque à Dactylo Horns, c'est plus de 38 minutes de musique et de poésie sonore qui vont nous emmener très loin dans des dimensions parallèles. On ferme les yeux et on se laisse entraîner dans un tourbillon musical où les surprises nous enivrent de leur nectar.
La première collaboration entre Jac Berrocal, Vincent Epplay et David Fenech avec Antigravity remonte à 2015, autant dire qu'en 2022, nos trois musiciens se connaissent bien, fonctionnent comme un groupe soudé, auquel les idées fusent et prennent forme instinctivement avec style et talent. C'est tout bénef pour le public, la preuve avec Transcodex et ses 10 morceaux qui ont pris naissance avec des passionnés de la musique libre et pas opaque.
Paskal Larsen – September 2022 (link)
– Cet album, c'est comme dans une exposition d'art moderne : on passe de salle en salle dans des ambiances différentes. Et puis on en ressort heureux. Et puis, qu'est ce qu'on fait? On va à la librairie se procurer l'album, le catalogue de l'expo. Et bien là, j'ai fait ça. J'ai pris le catalogue de l'expo en achetant le vinyle.
– Alors on pourrait dire que c'est votre album de la rentrée?
– Ah oui, oui, oui, oui, oui, tout à fait. (…) Et merci les gars.
Jules-Edouard Moustic + Susana Poveda, Club Jazz FIP – September 2022 (link)
Con Transcodex arriviamo alla quarta collaborazione tra Jac Berrocal, Vincent Epplay e David Fenech. E questa volta con due eccezionali special guest: Jah Wobble e Jean-Hervé Peron. Alle frontiere tra jazz, dub, industrial, elettronica, il disco riesce a trascendere tutti questi generi e si presenta come gioiellino art pop. Consigliassimo!
Gabriele Gadani – September 2022
Pour ce quatrième opus, le trio, comme à son accoutumée, convoque l'obscurité des nuits urbaines. Une plongée dans les rues parisiennes (encore qu'il soit possible de transposer ces images dans de nombreuses mégapoles), où les âmes déraillent, se perdent, s'abîment. Il fait nuit partout dans ce disque, il n'est pas incongru de penser qu'il pleut un peu. Jac Berrocal laisse errer sa trompette, souvent cinglante, et pose parfois sa voix profonde, pendant que David Fenech et Vincent Epplay bâtissent des pellicules sonores, faites d'échantillons et d'entêtantes boucles. Il y a dans cette musique une indéniable déambulation, au cœur de ruelles aux allures de coursives. Jac Berrocal y convoque quelques fantômes, Chet Baker et Alain Bashung notamment, sur une musique qui s'arme de multiples influences. Post-punk, no wave, industrielle, jazz (forcément jazz), voire krautrock sur le titre qui donne son nom à l'album, Transcodex, toutes les musiques semblent exister dans ce disque, mais ne sont jamais vraiment définissables : tout est habilement suggéré, étouffé, mais rien n'est jamais copié ou parodié. Jusque dans le dub que l'on retrouve par épisodes, souligné par la présence de Jah Wobble, un temps bassiste de P.I.L. Transcodex joue avec les codes, les mélangeant sans vergogne pour mieux les repousser, à la manière, par exemple, de Faust. La présence, sur quelques titres, de Jean-Hervé Peron contribue sans doute à cette impression. Parfois, on croit entendre, sous les feulements de la trompette de Jac Berrocal, les crissements du métro aérien, dans une fièvre tournoyante propre à La Chapelle. La guitare tranchante mais chancelante de David Fenech apparaît et disparaît, comme sur le bien nommé « Ghost Song », dont on ne peut dire s'il s'agit d'une chanson ou d'une dérive tant la structure est insaisissable. D'ailleurs, seul le format ramassé des morceaux permet de les envisager comme des chansons, et c'est à peu près le seul point consenti à la convention, dans cette musique instable et incertaine que Vincent Epplay habille d'apparats parfois improbables, mais toujours surprenants.
Des samples inattendus, des breaks qui se défilent et de brefs instants de plénitude, comme ce finale qui meurt lentement sur Chapelle Ganache. Une musique cosmopolite, un maelstrom d'âmes revêches aux contours de musique du monde. Pas cette world music qui a désigné un temps les musiques africaines, arabes ou de tout autre pays qui ne venait ni d'Europe ni d'Outre-Atlantique – étiquette aussi laide que paresseuse qui a fini par s'effacer pour enfin rendre justice à chacun des pays dont ces différentes musiques sont issues. Transcodex est une musique du monde, qui s'affranchit des genres et des frontières en côtoyant vies nocturnes et ruelles entrelacées. Ces nuits aussi inquiétantes qu'attractives, où le monde – au sens d'humanité – vit à la marge. À la marge des vivants réguliers, restent les terriens abandonnés qui vivent le plus souvent la nuit. La nuit, où l'on cesse de courir, où l'on cesse de produire. La nuit où ceux qui ont été oubliés s'octroient enfin le droit d'exister, dans des angles enfumés, des trottoirs encombrés, des rades à deux doigts de fermer. Transcodex est une nuit parmi les autres qui, une fois terminée, s'efface pour que l'autre moitié de l'humanité puisse retourner à ses activités. Jusqu'au soir suivant qui ouvrira la porte aux ribleurs, aux noctambules, laissant à nouveau s'installer la vie parallèle si proche, mais si lointaine.
Laurent NERZIC – Revue et Corrigée 133 – Septembre 2022
Senza soluzione di continuità, ci siamo tuffati in un suono un po più oscuro che è quello di un trio ormai collaudato, arrivato al quarto album, che ha pubblicato appunto l'ultimo lavoro intitolato Transcodex su Akuphone. Il trio è quello composto da Jac Berrocal, David Fenech e Vincent Epplay con il brano intitolato Javanese Sea Fleur, un lavoro e un trio che si muove su delle coordinate che mescolano elettronica, jazz, dub, ma anche un suono soprattutto oscuro, misterioso, avvolgente, che ritroviamo proprio in Transcodex attraverso delle atmosfere sempre molto affascinanti, in particolare su Javanese Sea Fleur il passo che abbiamo ascoltato, c'era uno dei due collaboratori che compaiono su diverse tracce di Trance codex, ovvero il bassista Jah Wobble e l'altro collaboratore, invece, è Jean-Hervé Peron, fondatore dei Faust.

Battiti, RAI3 – September 2022 (link)
With all of these reissues, you would think that is what Klanggalerie does, but there is also room for new music, albeit usually from artists they also have in their reissue program. Jac Berrocal, the saxophone player and vocalist, already teamed up with guitarist David Fenech and synthesizer player Vincent Epplay (see Vital Weekly 1227). That was a strange record, and this new one is less strange, as it continues what I heard then. The background of the musicians in improvised music is never far away, even when the resulting music has little to do with improvisation. The rhythm machine, for one, provides a continuous sound unheard in most improvised music. Along with the synthesizer being in sync, there is the idea of a song. Considering that most tracks are three to four minutes, you know that we are dealing with more song-like structures. Voices are from Berrocal but just as easily lifted from a radio. The guitar plays lovely little motifs, and when Berrocal plays the trumpet, it is something far away, perhaps the one element of improvisation that still remains. These ingredients I heard on the previous album made a remarkably different kind of pop music (for the lack of a better word), and they continue in this new record. This trio even leans towards dub and world music in 'Chapelle Ganache', which is no doubt helped by the presence of Jah Wobble's bass, flexible and dubby. The songs are spikey and alive, bursting with youthful energy. Pop-like, jazz-like (hard to avoid with how the trumpet is played here), dubby and, at times, wonderfully introspective. I understand this is the fourth release as a trio (well, with Wobble, Jean-Herve Peron and Lisa Gunstone as guests), which made me all the more curious about the ones I didn't hear.
Vital Weekly 1367 – December 2022
Poetry, concrète edits and a sparse dubby rhythm section guide the listener through the trio's latest album on Akuphone. In 'Javanese Sea Fleur' Berrocal's trumpet is submerged in slowly decaying reverb, whilst Jah Wobble explores the low end of the sound spectrum, creating grooves resembling Cabaret Voltaire's 'Kirlian Photograph', but with less of the rhythmic vocal work.
Dan Anghelache, The Attic – Favourite albums of 2022 (link)
Jac Berrocal, David Fenech and Vincent Epplay are back with a true gem of an album: Transcodex. Turning more towards pop than in their beginnings, this fourth record follows the footsteps of their previous album, Exterior Lux. The trio seems limitless: they experiment with a large variety of styles (pop, dub, electronica, dark jazz), always colored by their very own touch. Berrocal's trumpet, richer than ever, plays over an ever-changing sonic landscape engineered by the duet of musicians/producers Epplay and Fenech. They belong to the thinkers who finish their experiments as they have proven on their previous albums. Moreover, only what fits together for them comes together on the ten tracks on their fourth joint album, Transcodex. (Fortunately, it matches the audience's expectations of what belongs together!) As a result, it sounds like an experimental soundtrack to an art house thriller over long stretches, mixing pop, dub, electronica and jazz. With sometimes clear swings in one direction or the other. (They reduce 'Ghost Song' so much that it sounds like a Pixies song that has been turned down). »Dactylo Horns« drifts into atmospheric sound worlds where a trumpet runs riot. 'Catafalque' mixes dub and a little dada into a rhythmic eardrum-biter over a period of several days. The experiments flow in here and there, but do not set the tone, do not push the album over the top, which makes Transcodex more open, accessible and honest than the trio would probably like. The only point they may not have thought through until the end. But that only makes a good record better
Exystence Music Blog (link)
Transcodex is an eleven-track album that finds low-key dub bound-to-moody beat scapes touched by atmospheric jazz horn wails and subtle surreal ethnic electronica. All topped with a mix of spoken to semi-sung ( largely in French-tongued) vocals. The album brings together three important figures within French experimental sound/ music scenes. There's trumpeter, singer, and composer Jacques Berrocal- who has been actively working since the early '70s. Composer and improviser David Fenech- who has been active since the early 90s- and involved with the Peu Importe project. And visual & sound artists Vincent Epplay- who has been creating work since the early 2000s. The whole album is a fairly very loose/ largely laid-back affair- though it's often a surreally-tinged ride. We open with tick-tocking beats, misty & mystical horn hoover, and tight band twang bass of "Catafalque". Moving onto slow bouncing bass, wavering chanted vocals, and snaking dub beats of "Chapelle Ganache". Though to the didgeridoo-like hover, meets wondering horn honk, and slowing scatting-to-bobbing electro tones of the title track. Later on, we have up-front French spoken word, gentle churning-yet-skeletal industrial beats, and slightly whimsical world music dread of "Das Leben". And the more straight jazzy bass 'n' electro beats of "Les Filles" which as it goes on adds in lightly jiving guitar detail, snippets of surreal female dialogue, and a floating out/ ambient abstract resolve.
On the whole, Transcodex rather brought to mind a slightly more jazzed out, and lullingly abstract take on the type of thing Edward Ka-Spel has been doing over the last decade or so. If that's your bag you'll very much enjoy what's occurring here.
Roger Batty, Musique Machine – june 2023 (link)