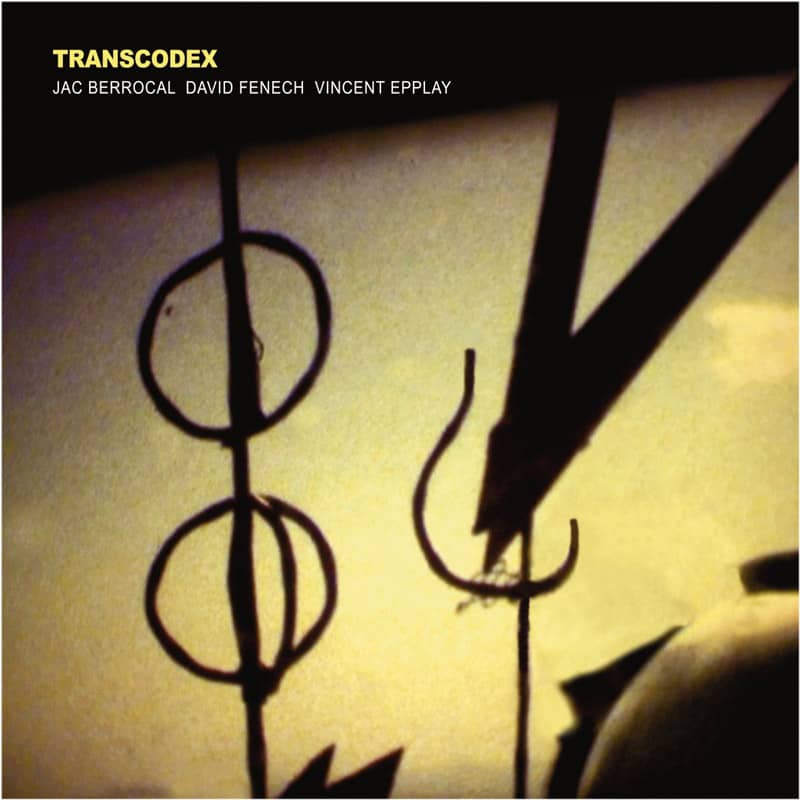 Jac Berrocal + David Fenech + Vincent Epplay – Transcodex
Labels : Akuphone (AKU1037 – LP/DL), KlangGalerie (CD – more info soon)
Release date : 2022
Transcodex is the fourth album from the trio Jac Berrocal + David Fenech + Vincent Epplay.
Featuring Jah Wobble and Jean-Hervé Peron on four tracks of the album.
Mastered and cut by the legendary Noel Summerville.
Press Release from the label :
Jac Berrocal, David Fenech and Vincent Epplay are back with a true gem of an album: Transcodex. Turning more towards pop than in their beginnings, this fourth record follows the footsteps of their previous album, Exterior Lux. The trio seems limitless: they experiment with a large variety of styles (pop, dub, electronica, dark jazz), always colored by their very own touch. Jac Berrocal's trumpet, richer than ever, plays over an ever-changing sonic landscape engineered by the duet of musicians/producers Vincent Epplay and David Fenech.
For this album, they invited two amazing musicians. Jah Wobble (founding member of Public Image Ltd and collaborator of African Head Charge, Brian Eno, Holger Czukay, Jaki Liebezeit, Evan Parker, Sinéad O'Connor) plays deep bass lines on two tracks. Jean-Hervé Peron (founding member of the German band Faust, and who recorded with Tony Conrad, Nurse With Wound, Pascal Comelade) brings his prowess to two tracks as well. Peron writes lyrics in French, German and Russian — and plays the French Horn like no one else.
The closing track of the A side is a tribute to Christophe Bevilacqua (1945-2020), friend to Jac Berrocal. The song summons the place Bevilacqua used to live in: an Art Deco flat on Boulevard du Montparnasse, Paris.
Even if its intentions are clear, Transcodex does not reveal all its secrets right away. It's up to you to find the solution, the key, the Transcodex yourself. It must be revisited over and over again for its beauty to be fully revealed.
The tracks with Jean-Hervé Peron were recorded with the help of Amaury Cambuzat (from the band Ulan Bator), also a member of Faust.
Tracklisting :
01. Catafalque
02. Javanese Sea Fleur
03. Ghost Song
04. Chapelle Ganache
05. Noire Est La Nuit Sur Montparnasse
06. Transcodex
07. Ives
08. Das Leben
09. Nuristan Est
10. Dactylo Horns
11. Les Filles (Bonus track only on CD or DL)
Video by Vincent Epplay and Stéphane Broc :
On change radicalement de style. C'est un peu souvent le cas dans Kérozène et je remercie beaucoup David Fenech de m'avoir envoyé en avant première le nouveau projet Transcodex (c'est le titre de cet album). On y retrouve Jac Berrocal, David Fenech et Vincent Epplay. Si je ne m'abuse, c'est le troisième volet de leur rencontre musicale. Ça sort sur le label Akuphone Records. Pour l'instant, il y a qu'il n'y a que deux titres en extrait sur le Bandcamp d'Akuphone… J'ai l'autorisation d'en passer un autre… et pour cet album, on les voit collaborer également avec Jah Wobble, le mythique bassiste de PIL, et également Jean Hervé Péron, un des membres de Faust. Et ce disque, ça vous propose… par rapport aux précédents qui étaient très urbains je trouve, qui étaient vraiment marqués par la rêverie, la rêverie urbaine. Je trouve que cette fois ci, on est toujours dans le domaine nocturne… mais comme une balade en taxi dans différents quartiers de Paris, où les vitres baissées, des bribes sonores nous arrivent. Des bribes de musique orientale, de musique africaine, parfois de musique acousmatique, de dub, de post-punk. Le tout organisé par trois chauffeurs qui adorent les marges et travailler dans la marge pour en créer quelque part une nouvelle route, des nouveaux modes d'expression. Et ça fonctionne vraiment une nouvelle fois très très bien, ce Transcodex! On s'écoute tout de suite un morceau qui s'appelle Javanese sea fleur. Et je trouve vraiment que cette fois ci ils ont, ils se sont ouverts… Ça reste toujours urbain, mais ce n'est pas de la même manière. On est moins sur le côté très froid, très hangar de fin de nuit…. Là, il y a la trompette bitumée, des arpèges veloutés et des ambiances épicées. Comme ce morceau qu'on écoute tout de suite et une nouvelle fois, un superbe travail sonore, encore. J'ai hâte que nos amis de Blind Spot reçoivent cet album !
Don Lurie – Kerozene – Radio KFUEL, June 2022 (link)
Concludiamo in questi ultimi 20 minuti che ci rimangono con un'atmosfera sempre pia stanza oscura, soprattutto nel primo ascolto che vi proponiamo, che viene dal disco firmato da Jac Berrocal, David Fenech e Vincent Epplay, una delle tre uscite e proprio fresche fresche dell'etichetta Akuphone che vi proponiamo questa notte e iniziamo appunto con il quarto album pubblicato da questo bel trio. Si intitola Transodex e il brano che abbiamo scelto per questa notte è Das Leben (…) Le atmosfere notturne nella narrazione di Jac Berrocal, questo brano, intitolato Das Leben nella musica realizzata con la complicità di David Fenech, e Vincent Epplay, un trio che predilige sonorità che rimandano all'oscurità, la nebbia al mistero e insomma un ambientazione noir, tanto per rimanere in tema cinematografico. Un disco, questo nuovo lavoro appena uscito per la Akuphone, che vede anche la presenza di due ospiti importanti come Jah Wobble e Jean-Hervé Peron.
Battiti – RAI 3, June 2022 (link)
Il prossimo disco è un disco di tre cari musicisti a me molto cari Jac Berrocal, Vincent Epplay e David Fenech. Sono usciti con un nuovo disco, Trancscodex per l'etichetta Akuphone, un'etichetta che sto seguendo con molta attenzione perché spazia dalla musica etnica alla ricerca all'elettronica, alla canzone d'autore. I tre musicisti si conoscono da molto tempo. David Fenech alla voce, ai processi della batteria, al basso, alla chitarra, tutta una serie di percussioni, Vincent Epplay al sintetizzatore all'elettronica, anche lui alla voce, effetti batteria e Field Recordings e naturalmente Jac Berrocal alla tromba e anche alla voce. In questo disco si sono serviti anche dei preziosi servigi di due musicisti importantissimi. Il primo è Jah Wobble. Jah Wobble è il membro fondatore dei Public Image Limited, nonché collaboratore di Brian Eno, di Evan Parker, di Jaki Liebezeit e di Holger Czukay. E poi c'è anche Jean Hervé Peron, che è uno dei membri fondatori dei Faust, un gruppo importantissimo per quella stagione della musica tedesca. Il solito disco del trio, questo transcodex, si distanzia forse un po 'dal precedente Exterior Lux. Qui forse c'è più un'attitudine pop, sempre che da prendere con le pinze questa definizione. Quando si parla di questi tre musicisti, di certo una miscela di dub, di elettronica di genere piuttosto oscuri, tutti toccati dalla maestria di questi tre musicisti da questo transcodex. Ho scelto il brano che apre il disco Catafalque.
La Radio Uabab – June 2022 (link)