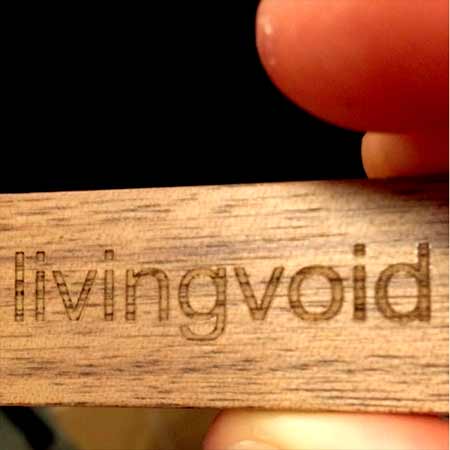 livingvoid compilation
format : USB stick
release date : feb 2014
buy it here
download it there
a compilation on engraved wooden USB stick. including contributions by My Cat Is An Alien, Mike Cooper, Anla Courtis, Gregg Davies, Philippe Petit, Liberez, etc.
A special USB memory stick pack, including:
1 x engraved livingvoid wooden USB stick.
1 x small painting by livingvoid organiser Jack Chuter, created while listening to livingvoid. Each will be unique.
1 x A4 livingvoid flyer, featuring a list of all contributors.
Adam McFillin
Alex Rumboldt
Alfie Cooke
Anatole
Andersen Viana
Anla Courtis
Anthony Galante
benjaminwillems
Brayden Bagnall
Budhaditya Chattopadhyay
Cauterised
Cindy Wegner
cjmann
Colin Taibi
conversationswithrocks
Craig Johnson
Cretin Dilettante
Daniel Barbiero
Dante Palmieri
David Fenech
david ian griess
Derek Piotr
Emile Milgrim
France Jobin
Gregg Davies
Ion Plasma Incineration
Jack Chuter
James Chuter
Jay Howard
Jean Drop
Jeremiah Cymerman
Jeremy S. Adams
Jim Barker
Joel Pearson
Josh Ronsen
Joshua Hummel
L'eclipse Nue
Laurie Tompkins
Leslie Deere
Liberez
Lisa Hogan
Luke Lund
Mark Chickenfish
Matt Warren Matthew Cheshire
Matthew Lee Knowles
MEANHAWK
Michael Roth
micromelancolie
Mike Cooper
Mike Perdue
modus op
morteza shirkoohi
Mountains On Fire
My Cat Is An Alien
neeeeeill
Norman
One Qwarter Horse
Pete Simonelli
Phil Taylor
Philippe Petit
protofuse
RADIO HUMMINGBIRD
raxil4
Robomatix Rebirth
Ryan Muar
scutopus
Sebastian Engelhardt /Seth Guy
Shaun Duke
SOLARCIRCLES
Steve Sachse
Stu Von Geel
Stuart Craig
swefn
The Dan Haynes Experience
Thomas Evans
Thomas Rex Beverly
Vagabond Dog x Geoff Smokes
Vincent Euliano